Guardian Bank Honored at Small Business Development Center Award Ceremony
Guardian Bank Honored at Small Business Development Center Award Ceremony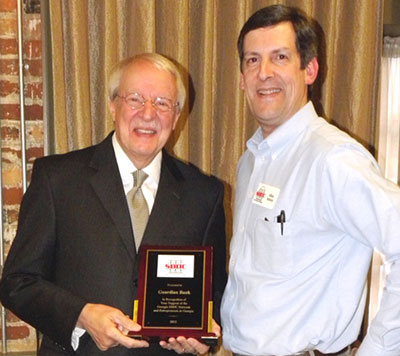 VALDOSTA -- Guardian Bank, a partner of VSU's Small Business Development Center (SBDC), was recently honored for its contributions to area small businesses at the annual Georgia SBDC award ceremony in Athens.

Dr. Ronald Zaccari, former Valdosta State University president and strategic planning/regional and community relations officer of Guardian Bank, accepted the 2012 Recognition Award from SBDC State Director Allan Adams.

"I was honored to represent Guardian Bank at the statewide SBDC awards ceremony and hear comments about the productive partnership between our bank and the Valdosta State University SBDC,"said Zaccari. "The award represents a commitment by a community bank to lead an engagement with small business owners and assist in improving their overall operations. It clearly documents that Guardian Bank is an integral part of local economic development. All of us at Guardian Bank look forward to continuing the positive partnership with the Valdosta State University SBDC. "

During the award presentation, Adams praised Guardian Bank for its generous sponsorship, innovative partnership and dedication to community and small businesses.

"Everything the Georgia SBDC Network does for small businesses is aimed at making them stronger, more viable 21st century businesses, but we cannot accomplish this alone," Adams said. "Partners like Guardian Bank are essential, assisting us in delivering our services to the area businesses that need it within their own communities."

Earlier this year, Guardian Bank partnered with the VSU SBDC by pledging a $15,000 sponsorship to provide training programs specifically geared toward small business enhancement and growth in the area. To date, two programs have been completed. Maximum Marketing and Maximum Money classes were held at the Valdosta Country Club and served more than 36 representatives from 31 diverse businesses.

The partnership between the VSU SBDC and Guardian Bank will yield one more class this fall. GrowSmart is a top-level training course aimed at helping small business owners become better CEOs. Following the completion of this 40-hour seminar, CEO roundtables for the GrowSmart graduates will be held quarterly to continue the support and training.

Georgia Power, State Bank and Trust of Metro Atlanta and Georgia Trend Magazine were also honored for their contributions and support during the awards ceremony. Albany SBDC's David Dunn was named as Georgia SBDC Consultant of the Year.

For more information, contact Ruby Riesinger, Area Director of the Valdosta State University SBDC at (229) 245-3738 or by email at rriesinger@georgiasbdc.org.



Newsroom
Office of Communications Powell Hall West, Suite 1120
Mailing Address
1500 N. Patterson St.
Valdosta, GA 31698
General VSU Information
Office of Communications