PSST!'s 'The Light in the Piazza' Continues Wednesday
June 24, 2012
12-161
Jessica Pope
Communications and Media Relations Coordinator
PSST!'s 'The Light in the Piazza' Continues Wednesday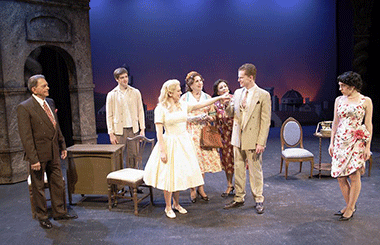 VALDOSTA -- A cast of two dozen actors and actresses -- with the help of a talented behind-the-scenes team -- will once again take audience members back in time and on a romantic journey when Peach State Summer Theatre continues its production of "The Light in the Piazza" at 7:30 p.m. on Wednesday, June 27.

Based on the novella by Elizabeth Spencer, "The Light in the Piazza" takes place in Italy in the summer of 1953. Two Americans, Margaret Johnson and her daughter, Clara Johnson, are traveling through Florence and Rome. A sudden gust of wind and a lost hat result in Clara meeting a young man, Fabrizio Naccarelli. They fall in love at first sight and enjoy an intense romance, despite her mother's endless attempts to keep them apart. As the story unfolds, a secret is revealed: Clara is not quite all that she appears to be.

Directed by Randy Wheeler, the Peach State Summer Theatre production of "The Light in the Piazza" stars a real life mother-daughter duo, his "two favorite leading ladies." His wife, Jacque Wheeler, PSST! artistic director and professor of theatre at Valdosta State University, plays Margaret Johnson. His daughter, Megan Wheeler, a 2009 VSU graduate, plays Clara Johnson.

"The Light in the Piazza," with book by Craig Lucas and music and lyrics by Adam Guettel, is Randy Wheeler's 25th show with VSU's summer musical theatre program. He has directed 17 shows on Jekyll Island and eight shows at Sawyer Theatre.

Peach State Summer Theatre, or PSST!, is Valdosta's premiere professional summer stock theatre. Each summer, dozens of singers, dancers, technicians, managers, and creators gather on the campus of Valdosta State University for nine weeks. During that time, they rehearse, build, and present three musicals in rotating repertory.

The 2012 Peach State Summer Theatre season marks the 23rd year of VSU producing professional theatre for the city of Valdosta, the state of Georgia, and beyond. From 1990 to 2004, VSU produced the Jekyll Island Musical Theatre Festival. In 2005, the summer theatre program was relocated to the university and renamed PSST! Then, in 2006, it was designated the Official Musical Theatre of the State of Georgia by the Georgia Legislature.

The musical theatre season kicked off on June 2 with the opening of "Legally Blonde: The Musical," which was followed by the opening of "Go, Dog. Go!" on June 15. "The Light in the Piazza" rounds out the 2012 PSST! lineup, and the three shows will be presented in rotating repertory through the weekend of July 14-15 on the Sawyer Theatre stage in VSU's Fine Arts Building, located on the corner of Brookwood Drive and Oak Street.

The Peach State Summer Theatre box office is open from 10 a.m. to 5 p.m. Tuesday through Saturday and from 10 a.m. to 1 p.m. Sundays. It is located on the first floor of the VSU Fine Arts Building and can be reached by calling (229) 259-7770.

Individual show tickets are $25 plus tax for adults and $20 plus tax for all children, students, and senior citizens.

Visit www.valdosta.edu/psst or read "Peach State Summer Theatre Box Office Is Open For Business" at www.valdosta.edu/news/releases/pssttickets.051712 or "PSST! Season Kicks Off Saturday With 'Legally Blonde: The Musical' at www.valdosta.edu/news/releases/legallyblonde.060112 or "PSST!: Creating Three Very Different Worlds On One Small Stage" at www.valdosta.edu/news/releases/pssttechcrew.060412 or "PSST! Opens 'Go, Dog. Go!' On Friday" at www.valdosta.edu/news/releases/psstgodoggo.061412 for more information.



Newsroom
Office of Communications Powell Hall West, Suite 1120
Mailing Address
1500 N. Patterson St.
Valdosta, GA 31698
General VSU Information
Office of Communications