VSU Student Receives Scholarship To Study In Spain
June 27, 2012
12-166
Jessica Pope
Communications and Media Relations Coordinator
VSU Student Receives Scholarship To Study In Spain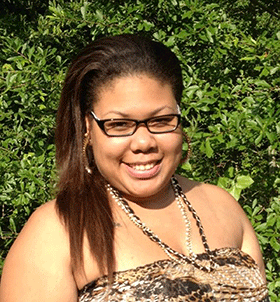 VALDOSTA -- More than 500 students across the United States were awarded funds by the Benjamin A. Gilman International Scholarship Program to spend the summer studying abroad. Twenty-six of them were from Georgia.

One is studying Spanish at Valdosta State University.

"This will be my first ever study abroad experience," said Clandra Newson, 22, who left for Cadiz, Spain, on Wednesday, June 27. "I have always wanted to study abroad, since I was in middle school, I believe. Spain was always on my list of places to visit, and to be able to kill two birds with one stone on this study abroad trip is a blessing. I am forever thankful."

A fifth year senior from Athens, Newson heard about the Benjamin A. Gilman International Scholarship Program at an ice cream social hosted by Dr. Victoria Russell, an assistant professor in VSU's Department of Modern and Classical Languages.

"She was giving information about the [study abroad] program and spoke about funding for the program," said the daughter of Willie and Lori Newson. "The Gilman was one of the bigger scholarships that she spoke about. I was very interested in going on this trip, so if I could get this scholarship, I knew I was going to be able to make it to Spain and study."

Newson, who graduated from Clarke Central High School in 2008, was awarded $3,500 from the scholarship program.

"I was ecstatic," she said. "I thanked God first and foremost, and then I emailed Dr. Russell. I know I should have called my parents first, but she helped me so much through the essay writing, the application process, just everything. I am entirely grateful for having her in my life. I called my parents, who were equally thrilled. I posted on Facebook to let friends know, and then I began the acceptance process."

Without the Benjamin A. Gilman International Scholarship Program, Newson said that study abroad would not have been an option for her. Now, she will spend 34 days studying and interning with the Red Cross of Spain, while earning academic credit in Spanish conversation and the history of Spain.

"Very few students win this scholarship to study in Western Europe, so this is quite an achievement for Clandra," noted Russell, who began working with Newson on the application process in October of 2011.

The Benjamin A Gilman International Scholarship Program offers grants to United States citizens of limited financial means interested in pursuing academic studies abroad at the undergraduate level. The program is funded through the International Academic Opportunity Act of 2000 and sponsored by the Bureau of Educational and Cultural Affairs at the U.S. Department of State.

Newson expects to graduate from VSU with a Bachelor of Arts in Spanish in the fall of 2013. She hopes to then enter VSU's College of Nursing and pursue an accelerated Bachelor of Science in Nursing degree.

On the Web:

www.iie.org/gilman


More on the Study Abroad Program in Cádiz, Spain

• A total of 23 VSU students are set to participate.
• Courses in Spanish language, conversation, peninsular literature, Spanish culture, geography, or civilization, and foreign language education will all be taught at the University of Cádiz, located in Andalucía on the southern tip of Spain. Classes will focus on developing speaking proficiency rather than on grammar.
• The program costs $4,850 plus VSU tuition. Financial aid money, such as that from the Georgia HOPE Scholarship Program and the Federal Pell Grant Program, can be used to help defray the cost of the study abroad program. Additional local, as well as national, funding options are available.
• The cost of the program includes round-trip airfare from Atlanta to Madrid, rail and other transportation within Spain, three nights in Madrid, room and board for four weeks in Cádiz, weekly laundry service, health insurance, program fees at the University of Cádiz, overnight excursions to Córdoba and Toledo, and excursions to Sevilla, Pueblos Blancos, and Puerto de Santa María.

To learn more about study aboard opportunities at VSU, please contact the Center for International Programs at www.valdosta.edu/cip or (229) 333-7410.






Newsroom
Office of Communications Powell Hall West, Suite 1120
Mailing Address
1500 N. Patterson St.
Valdosta, GA 31698
General VSU Information
Office of Communications