Camp Discovery Plus A Little Imagination Bring Olympic Fun To VSU
June 7, 2012
12-156
Jessica Pope
Communications and Media Relations Coordinator
Camp Discovery Plus A Little Imagination Bring Olympic Fun To VSU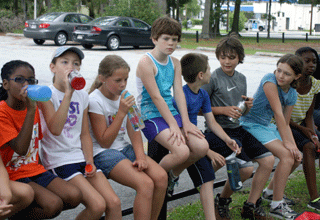 VALDOSTA -- Modern pentathlon competitions during the 2012 Summer Olympic Games, officially the Games of the XXX Olympiad, are scheduled to take place Aug. 11-12 in London, England. The men and women's events will each involve some 36 athletes competing in fencing, a 200-meter swim, show jumping on an unfamiliar horse, and a three-kilometer run with stop-offs at shooting points where they must hit five targets. The first to cross the finish line wins the gold medal.

Valdosta State University Continuing Education recently conducted its own version of the modern pentathlon for boys and girls attending Camp Discovery's physically active Survivor VSU. Their instructor, Kelly Yates, said that developing kid-friendly -- and budget-friendly -- versions of the Olympic events required just a little bit of imagination.

Yates used swim noodles for fencing and as horses during the show jumping event. For swimming, she asked the children to do a backstroke relay on foot. They used Nerf guns for the shooting event, and when it came time for the running event, well, they ran around a tree-shaded area, breathing heavily at the finish line.

"This camp is all about the kids having fun," said Yates, who teaches 4-year-olds at Crossroads Baptist School. "The camp keeps them active and exposes them to what the Olympics is all about. Plus, they learn game skills and problem-solving skills."

Charlotte Griner, 9, and Cameran Lamb, 11, enjoyed the show jumping event, which they both described as "really hard."

Emily Bennett, 10, Ellie Dent, 9, and Yakira Johnson, 8, proved that girls can be quite aggressive when it comes to competitive sports. They were nearly unbeatable in the fencing event.

Yates noted that she and the children kicked off each day of Olympic fun by reciting a motto: "I promise to follow the rules of the games, to be fair, to be a good sport, and to honor my teammates. I'll remember to play for fun, encourage others, and only speak words that help others, not hurt others."

During the week of June 4-8, Yates worked with 11 boys and girls ages 9 and older. She will work with those between the ages of 5 and 8 the week of June 11-15.

"Camp Discovery 2012 is off and rolling this year," said Suzanne M. Ewing, program coordinator for Camp Discovery, a summer day camp program offered through VSU Continuing Education designed to provide enrichment opportunities for children and teens in the Valdosta area. "Parents want their kids to relax during the summer, but they also are looking for activities that will get them away from the TV, surfing the Web, and video games. Our programs provide opportunities for children to get out of the house, interact with their peers, and learn something in the process. Our summer camp program has been growing each year as more and more folks discover what we have to offer."

All Camp Discovery programs are age-appropriate, designed to be fun for boys and girls participating, and opportunities to improve academic, artistic, and/or physical skills. Enrollment is limited to 20 students per camp, unless otherwise noted in the description, to assure good student and teacher interaction. Most of the camps are held from 9 a.m. to noon or 1 p.m. to 4 p.m. Monday through Friday at the Regional Center for Continuing Education, located at 903 N. Patterson St. Some camps, such as those involving horses, are held off-site.

In response to parent requests, this year VSU Continuing Education developed more camps for those ages 12 and older.

"We have had kids coming here for years who have 'aged out' of many of our camps but want to continue coming," Ewing said. "We are hoping to accommodate these kids, as well as newcomers, by offering camps specifically for them. This year, we are offering seven half-day camps just for this age group."

VSU Continuing Education's mission is to enhance the quality of life in the region by providing educational, artistic, cultural, technological, and economic development activities and programs. It works to develop and present programs and activities for professional and personal enrichment of community persons.

To view a complete listing of Camp Discovery programs, as well as other programs offered through VSU Continuing Education, please visit www.valdosta.edu/conted/.

For more information or to register, please call (229) 245-6484.


Newsroom
Office of Communications Powell Hall West, Suite 1120
Mailing Address
1500 N. Patterson St.
Valdosta, GA 31698
General VSU Information
Office of Communications