2012 Graduate: Frank Visker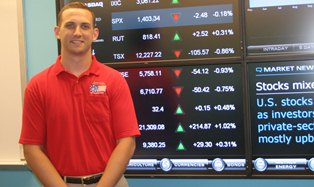 Langdale College of Business (LCOB) Outstanding Senior Frank Visker helped lead the finance program into a new era as the first president of the Valdosta State Investment Group.

As president, Visker served as fund manager of VSU's student-managed portfolio, which was introduced during the opening of the university's Financial Trading Room.

During his time as president, the investment group attended the Quinnipiac University School of Business' second annual Global Asset Management Education Forum in New York City.

"The opportunity to manage a portfolio with real-world dollars has been a tremendous advantage for me before stepping into a career in finance," said Visker.

Visker, who graduated on May 5 with a Bachelor of Business Administration in Accounting and Bachelor of Business Administration in Finance, also served as chair of the LCOB Student Advisory Council.

The Roseville, Calif., native obtained several high academic achievements throughout his undergraduate studies including the 2012 LCOB Outstanding Senior Award. Visker's list of accomplishments began long before college life. Upon graduating from high school in 1997, he joined the U.S. Marine Corps, serving in various positions such as terminal equipment repairman, electronics instructor and communications chief. During his 11-year career in the military, he received several awards including the Marine of the Quarter Award, Good Conduct Medal and Sergeant Major of the Marine Corps Writing Award.

Visker said that after his service, he was ready to learn something new.

"I'd always wanted to get my degree. The G.I. Bill was offered so I decided to take advantage of it. As I progressed through college, I gained an appreciation for finance and also realized how important accounting was in business."

Visker now anticipates returning to Cummins Corporation in Indiana to complete his second finance analyst internship with the company. He will then pursue finance and accounting jobs in and around Valdosta and in his home state of California. He also expressed plans of eventually earning his Master of Business Administration.



General VSU Information
Office of Communications
Campus Address
Office of Communications Powell Hall West, Suite 1120
Mailing Address
1500 N. Patterson St.
Valdosta, GA 31698