May 7, 2012
12-134
Sara Lynn McCall Graduate Assistant
Dusty Abshire Named New Assistant Director of Residence Life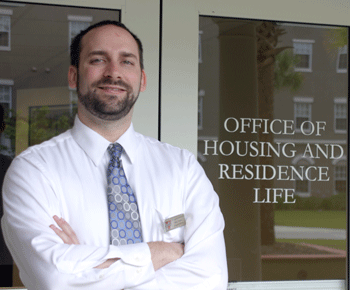 VALDOSTA -- Dusty Abshire is the new assistant director of residence life at Valdosta State University. He began his duties on April 30.

Abshire comes to VSU after working at several schools, such as Ball State and the University of South Carolina, as well as after enjoying a stint in private industry with StudentVoice.

"We are thrilled to welcome Mr. Dusty Abshire to the VSU community," said Dr. Thomas Hardy, director of Housing and Residence Life. "After conducting a nationwide search for the best candidate, we found in Mr. Abshire someone who can take his responsibilities of residence life supervision, housing student conduct issues, and camps and conference supervision to the next level."

Abshire relocated to Valdosta from Buffalo, N.Y., where he worked for StudentVoice, a company that works with higher education assessment. He decided to leave that position to get back to a campus, and he felt that Valdosta was a perfect fit. Abshire loves the location, the climate, the campus, the size, and most importantly, the people. He says he felt very comfortable during his campus visit and knew that, if the offer came through, he would happily join the staff in Housing and Residence Life.

After working in housing at a very small campus and two much larger campuses, Abshire feels like he has a great balance of experience to impact the students at Valdosta State. In his free time, he enjoys sports, movies, reading about sociology and politics, and card games with friends.

To learn more, please contact Dusty Abshire at dpabshire@valdosta.edu.
General VSU Information
Office of Communications
Campus Address
Office of Communications Powell Hall West, Suite 1120
Mailing Address
1500 N. Patterson St.
Valdosta, GA 31698