April 1, 2012
12-91
Jessica Pope
Communications and Media Relations Coordinator
Easter Collection Sale to Benefit VSU College of NursingScholarship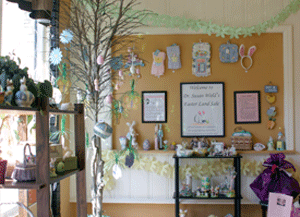 VALDOSTA -- Collins' Thrifts and More is offering families the opportunity to build a basket and decorate for the Easter holiday while simultaneously helping a student attend Valdosta State University's College of Nursing.

David and Theresa Collins' Easter merchandise was obtained from the estate of Dr. Susan J. Wold, who died unexpectedly at the age of 64 in September 2011. It features a large selection of new baskets, home décor, and accessory items.

Wold joined the VSU College of Nursing faculty in 1999 as an associate professor. In 2002, she was awarded tenure. Two years later, she was promoted to full professor. She held bachelor's, master's, and doctorate degrees in nursing from the University of Minnesota and devoted 42 years to the nursing profession and 35 years to higher education, teaching others how to become nurses. She was considered an expert in public health and school nursing.

Hearing stories about Wold, David and Theresa Collins decided to donate the money raised from the sale of her Easter holiday collection to a scholarship fund benefiting nursing students. The Dr. Susan J. Wold Scholarship was established in her memory by the College of Nursing, with initial funding by her colleagues and friends, noted Kerry Morris, VSU's director of corporate and foundation relations.

John Crawford, vice president for university advancement, described the Easter sale as "a wonderful way to honor the many contributions of Dr. Wold."

"Susan loved celebrating the holidays, and Easter was one of those holidays," Debra Baker, a nurse at South Georgia Medical Center, said. She and Wold worked together teaching students in VSU's College of Nursing for seven years. "She had a vast array of items in her collection, years and years of stuff. She would invite you over to her house to dye Easter eggs …. You would sit all evening and dye eggs. She welcomed everyone into her home, faculty, friends in the community …. She valued the gift of time and life and celebrated it at any occasion."

Baker said that she will never forget how Wold would surprise her friends and loved ones with Easter baskets full of goodies.

"It was the same at other holidays, too," she added. "She was a giver and her gift was friendship. That's how she shared it. Her heart was huge."

Wold was known as a passionate person who strived to make a positive difference in the quality of people's lives. She once convinced legislators that it was in the best interest of the people of Statenville for their water to have fluoride, Baker said.

Regarding the scholarship, she added, "Susan would be honored and is honored. This is a wonderful way to keep her legacy alive."

Through Saturday, April 7, Collins' Thrifts and More will host Build-A-Basket. All ages are invited to visit the store and shop in what David and Theresa Collins are calling Dr. Susan Wold's Easter Land. Filled baskets will be wrapped at no charge. One hundred percent of the proceeds will help send a student to VSU's College of Nursing.

Easter is Sunday, April 8.

To learn more about the Dr. Susan J. Wold Scholarship or to make a contribution, please call the VSU Foundation at (229) 333-5939.

To learn more about the Easter sale at Collins Thrifts and More, please call (229) 244-8080.


General VSU Information
Office of Communications
Campus Address
Office of Communications Powell Hall West, Suite 1120
Mailing Address
1500 N. Patterson St.
Valdosta, GA 31698