A Night With The Queen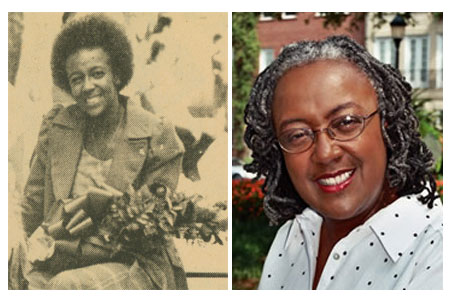 VALDOSTA -- Valdosta State will welcome its first black homecoming queen back to campus nearly four decades after her crowning this weekend. Hosted by Black Student League, A Night With The Queen will be held Saturday, April 7 at 7 p.m. in the University Center Magnolia Room.

During her visit, Skip McDonald, will share experiences from her time at Valdosta State, as well as her feelings on becoming a part of the institution's rich history when she was crowned the first black homecoming queen in February 1974. She also will discuss her involvement with the Black Student League while in college.

"This event means so much to Black Student League," said Kelli Williams, current president of the student organization. "I have been doing research for a few months on Black Student League and I came across an article with Skip McDonald in it. I wanted to learn more about her and share her story with our campus."

Williams added that the event is free and open to the public.

An Adel native, McDonald holds a Bachelor of Science in Nursing from Valdosta State College, as well as a bachelor's degree in theology. She currently resides in Marietta and is a registered nurse working with Nurses Christian Fellowship. McDonald serves as a staff member in the organization's regional office and works with nursing students, fellow nurses and nurse educators throughout Georgia.

McDonald has three published articles in Journal of Christian Nursing. She is also the author of four books: The Garden of My Heart; And She Lived Happily Ever After; Christ, My Life: The Great Exchange; and Christian Survival Guide to Nursing School. McDonald has served as a guest at various conferences and workshops, including the Spring 2008 National Student Nurses Association Convention in Grapevine, Texas, where she conducted a workshop titled Footprints to Spiritual Care.

Read more about McDonald's time at Valdosta State in Deborah Skinner Davis' book, Valdosta State University: The College History Series. ( books.google.com/books?id=gV1ove7EcYIC&pg=PA104&lpg=PA104&dq=skip+mcdonald+vsu&source=bl&ots=PTN_s7q653&sig=ql0rPT443EnyBBjve_KtzeQD6aA&hl=en&sa=X&ei=7Up8T9ClIMfAtwe-xNyDDQ&ved=0CCEQ6AEwAA#v=onepage&q&f=false )

For more about A Night With The Queen, contact Williams at kellwilliams@valdosta.edu .

Newsroom
Office of Communications Powell Hall West, Suite 1120
Mailing Address
1500 N. Patterson St.
Valdosta, GA 31698
General VSU Information
Office of Communications