Model UN Team Wins in New York
April 18, 2012
12-117
Sara Lynn McCall Graduate Assistant
Model UN Team Wins in New York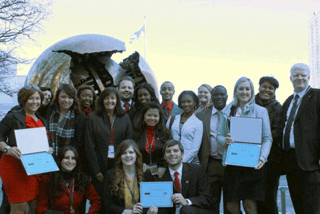 VALDOSTA -- Fourteen students from Valdosta State University recently attended the National Model United Nations Conference in New York City, which was held April 1 - 8. They were joined by two students from Palacky University in the Czech Republic to form a joint delegation that represented Nicaragua. Over 5,800 students from 44 countries convened in New York to participate in the conference.

"I am very proud of the VSU Model UN team, they did an outstanding job in the face of some very tough competition," said Dr. Carol M. Glen, faculty advisor. "I'm sure it is an experience that will stay with them for the rest of their lives."

The team earned a Distinguished Delegation Award, one of the highest level awards given at the conference, for accurately representing the foreign policy positions of Nicaragua and for the correct application of Model UN rules and procedures. In addition, VSU students Katelyn Connell and Tyler Gilbert received an Outstanding Position Paper Award for a paper they completed prior to the conference, which outlined Nicaragua's policy positions for the Committee on the Status of Women. The awards indicate that the performance of the VSU team surpassed that of many renowned U.S. and foreign universities.

"The conference game me firsthand experience in negotiation, public speaking and diplomacy," said Connell. "I made friends with people from different regions of the world and I will carry what I learned with me into my future endeavors."

The NMUN is the oldest and largest intercollegiate Model United Nations conference in the world. Valdosta State students negotiated with students from around the world to produce solutions to real world problems that included, cyber warfare, gender equality, human trafficking and environmental protection. At the end of the conference, the resolutions that the students created and approved were compiled into a single document to be presented to the real UN.

The VSU delegation also had the opportunity to have extended briefings in the offices of Nicaragua's Permanent Mission to the United Nations. Students met with Ambassador Jaime Hermida Castillo to discuss the policies positions of Nicaragua with regards to the topics they were discussing during conference. This gave students a chance to ask questions that would allow them to better represent Nicaragua in their committees.

Students interested in participating in the VSU Model United Nations next semester should contact Glen at cmglen@valdosta.edu. Membership is open to all VSU students.
Newsroom
Office of Communications Powell Hall West, Suite 1120
Mailing Address
1500 N. Patterson St.
Valdosta, GA 31698
General VSU Information
Office of Communications