VSU Places Third In National Interior Design Competition
April 4, 2012
12-97
Jessica Pope
Communications and Media Relations Coordinator
VSU Places Third In National Interior Design Competition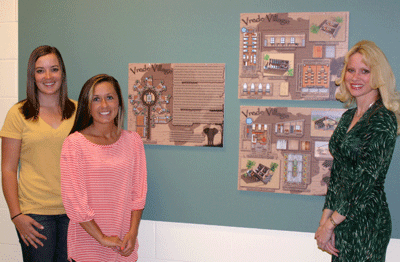 VALDOSTA -- The Interior Design Educators Council (IDEC) 2012 Student Design Competition began with 123 entries from 319 students from 45 universities across the United States. It ended with Valdosta State University placing third nationally.

Working in teams of two or three over a two-week period, all students entering the annual design competition were asked to identify the problems that South Africa's "Lost Generation," the children who have lost one or both parents to HIV/AIDS, face and to develop a design response to their various needs. They were told to consider the area's culture and heritage, as well as the available community resources, when creating their design.

VSU Interior Design Program seniors Heather Hall and Hannah Fletcher, both 25, designed a village where children raising children and extended family members could live together and care for each other. Their Vrede Village design featured seven housing units with outdoor gardening areas, a medical clinic, a primary school and a high school, and an open-air market for trading goods.

"We made sure to only use raw materials that the people of South Africa would have access to and could sustain," said Hall.

"The village has no electricity and no running water," added Fletcher. "It is very much based in reality."

Pointing out a detail of the design, Fletcher noted that the roofs were sloped to allow rainwater to be collected by the village residents. She also noted that the windows in each of the housing units were strategically placed to allow for the most sunlight.

"With this project, we had to consider everything," said Hall. "In the end, we feel like we created something really good."

Both Hall and Fletcher wondered out loud what it would be like if the right person saw their design and was inspired to make it a reality for South Africa's "Lost Generation."

"The research we conducted just brought us to tears," Fletcher said.

Hall and Fletcher initially placed third in the South Region of the IDEC 2012 Student Design Competition, which boasted 34 entries from 86 students from 12 schools in Alabama, Florida, Georgia, Mississippi, North Carolina, South Carolina, Tennessee, Virginia, and West Virginia. From there, their project, along with those of the top three teams from each of the council's five regions, were sent to Baltimore, Md., for judging during the four-day IDEC 2012 Annual Conference.

Dr. Selena Nawrocki, professor and VSU Interior Design Program coordinator, said she was proud of the effort Hall and Fletcher put into the national student design competition.

VSU's Interior Design Program emphasizes art and design fundamentals, design history, materials, business principles, and building codes and regulations and leads to a Bachelor of Fine Arts degree.

Fletcher, who lives in Valdosta, dreams of working in historic preservation.

Hall, who calls Bainbridge home, dreams of working in the commercial industry.

Both students are scheduled to graduate in May.

To learn more about Valdosta State University's Interior Design Program, please contact Dr. Selena Nawrocki, professor and Interior Design Program coordinator, at (229) 249-4912 or snawrock@valdosta.edu.

To learn more about the Interior Design Educators Council, please visit www.idec.org.
Newsroom
Office of Communications Powell Hall West, Suite 1120
Mailing Address
1500 N. Patterson St.
Valdosta, GA 31698
General VSU Information
Office of Communications