Bogart and Tanner Presented at Regional Human Resources Conference
April 22, 2012
12-121
Sara Lynn McCall Graduate Assistant
Bogart and Tanner Presented at Regional Human Resources Conference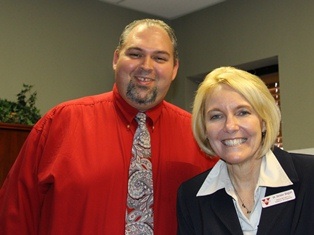 VALDOSTA -- Dr. Denise Bogart, Director of Human Resources, and Jamie Tanner, Classification and Compensation Manager, were selected to speak at the Southern Regional College and University Personnel Association - Human Resources Conference, which was held April 1 - 4, in Savannah. The program committee reviewed over 100 session descriptions and hand selected their top 30.

Their topic "Trauma in the HR" dealt with the stressors that human resources professionals have been coping with due to the increasing rise of violence in the workplace, the poor economy and the stress it produces in current employees and applicants, as well as the changes in the ADA that relate to workplace mental health issues.

The session was built primarily from a survey of CUPA-HR professionals, which revealed that human resource professionals have a lack of training in dealing with psychological issues in the workplace and that the human resource professionals themselves are being affected as a result of this lack of training.

The presentation consisted of three main parts: the survey results, mental health issues encountered by Human Resource professionals and the coping and relaxation methods that can be utilized to help alleviate stress on the job. The presentation was positively received and they have been approached about presenting this information at upcoming conferences.

"Dr. Denise Bogart and I were very excited to hear that our presentation 'Beyond the Boiling Point: Trauma in the HR' was chosen as 1 of 35 concurrent sessions out of over 100 proposed concurrent sessions for the Southern Region CUPA-HR Conference," said Tanner. "We hope to be able to offer a session similar to this on our campus later in the year. This information is just as relevant to other members of management as it was to Human Resources."

Bogart has been the director of Human Resources and Employee Development since 2005, and she has a doctorate of philosophy in Higher Education Administration from the University of Florida. Tanner has been a member of the Human Resources and Employee Development team since 2006 and has a Master's degree in Industrial/Organizational Psychology from VSU.

Contact Bogart at dbogart@valdosta.edu and Tanner at jvtanner@valdosta.edu.
Newsroom
Office of Communications Powell Hall West, Suite 1120
Mailing Address
1500 N. Patterson St.
Valdosta, GA 31698
General VSU Information
Office of Communications