VSU Graduate School to Host Fourth Annual Graduate Student Researchand Scholarship Symposium and Graduate Student Week
April 9, 2012
12-103
Sara Lynn McCall Graduate Assistant
VSU Graduate School to Host Fourth Annual Graduate Student Researchand Scholarship Symposium and Graduate Student Week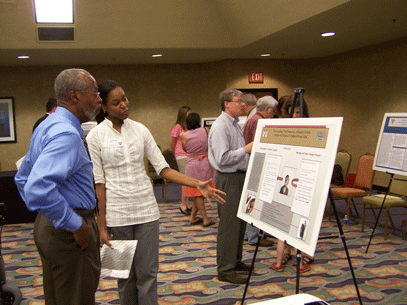 VALDOSTA -- The Graduate School at Valdosta State invites you to celebrate graduate student research, creative, and scholarly activity during the Fourth Annual Graduate Student Research and Scholarship Symposium, which will be held from 3 - 6 p.m. on Friday, April 20, in the University Center Magnolia Room. The symposium continues a tradition that began in 2009.

"The symposium features students from all graduate programs at VSU, and we are excited to have the opportunity to showcase their outstanding work with this event," said Dr. Alfred Fuciarelli, assistant vice president for research and dean of The Graduate School.

Participants in the symposium were nominated by faculty members from their respective programs and represent some of VSU's most outstanding students. Working under the guidance of their faculty mentors, our graduate students have made significant contributions in their disciplines by engaging in research, creative, and scholarly activities. Their efforts not only advance scholarship in their fields but also help to solidify VSU's growing reputation across many academic disciplines.

The VSU Interim President Louis H. Levy and the Provost Phil Gunter will give opening remarks at the symposium, and faculty, department heads, deans, graduate students and guests will have the opportunity to view posters and learn about various projects.

The symposium is free and open to the public, and refreshments will be served.

Graduate Student Week

The Association of Graduate Students invites all graduate students to attend events during the inaugural Graduate Student Week, which will be held April 16 through April 20. The week was created with the purpose of providing graduate students with invaluable opportunities to develop both personally and professionally. There will be give-aways and refreshments at all events.

April 16
Is Graduate School for Me?
6 p.m. Student Union Ballroom A
This program is geared towards undergraduate students and will provide them with knowledge and information about graduate school and graduate education. Dean Fuciarelli and staff from The Graduate School will be present to answer questions. Come educate and inform undergraduate students about graduate education!

April 17:
Teach Out
11 a.m. - 1:30 p.m. VSU Front Lawn
Graduate students are invited to teach their classes on the front lawn during their regularly scheduled class time this day and are also invited to come fellowship during this time. Come teach out even if you don't teach!

April 18:
Stress-Less: A Graduate Student Stress Relief Program
6 p.m. Student Union Meeting Room 2
To combat the stress of graduate school, graduate students will be able to participate in an evening where they can learn the best ways to de-stress and participate in a Yoga or Pilates session. Come in comfortable attire!

April 19:
Financial Workshop
12 p.m. UC Cypress Room
This workshop is for graduate students to learn about salaries, benefits, and other topics related to finances after completing graduate school. Sue Fuciarelli, vice president of finance & administration, will be facilitating this event. Please email sabloss@valdosta.edu to reserve your space for the Financial Workshop!

April 20:
Graduate Student Research and Scholarship Symposium
3 - 6 p.m. UC Magnolia Room
The culmination of Graduate Student Week is the Graduate Student Research and Scholarship Symposium where graduate students display current research projects to the university community in a poster session with refreshments. Come out and support your peers as they present their research!

For more information about the symposium, contact Teresa Williams at twilliam@valdosta.edu or (229) 333-5695. For more information about Graduate Student Week, email gradstudents@valdosta.edu.
Newsroom
Office of Communications Powell Hall West, Suite 1120
Mailing Address
1500 N. Patterson St.
Valdosta, GA 31698
General VSU Information
Office of Communications