Female Empowerment Celebrated During Sexual Assault Awareness Month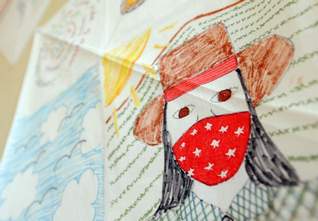 VALDOSTA -- In observance of Sexual Assault Awareness Month, Valdosta State University Women's and Gender Studies Program (WGST) will celebrate and defend female sexuality throughout April with a host of events that promote empowerment, equality and identity.

The month will begin with the presentation of a documentary film titled The Line on Tuesday, April 3 at 7 p.m. The film was made by Nancy Schwartzman and highlights her personal struggle of understanding how a one night stand could have turned into a rape. During her journey to find understanding, she learns that sex has to be negotiated and agreed upon. She then questions her sexual line of consent by asking herself and others, "Where is your Line? Where do you draw the line of what you will and will not allow during sex?"

The Vagina Monologues, the highlight of the month, will be performed April 12, 13 and 14 in Jennett Hall, starting at 7 p.m. each night. Tickets at $5 for students and $10 for the general public, and can be purchased at the WGST office or at the door.

Ten percent of the net profits from VSU's benefit production of The Vagina Monologues will be donated to the V-Day 2012 Spotlight: The Women and Girls of Haiti. The rest of the proceeds will go to support the Women's and Gender Sexual Violence Education Program and The Haven.

The Vagina Monologues is an Obie Award winning play written by Eve Ensler. The play is based on Ensler's interviews with more than 200 women about their memories and experiences of sexuality. It is a celebration of female sexuality in all its complexity and mystery. It encourages the audience to think of women as sexual beings who are entitled to express sexual feelings and enjoy sexual experiences free of shame and guilt. It also encourages people to think more deeply about violence against women and how it affects their lives and the lives of those around them.

The month continues with The Bandana Project, held Monday, April 16 to Wednesday, April 18 on Pedestrian Mall. A display of decorated white bandanas will hang on the walkway, symbolizing reform against sexual exploitation of farmworker women. Students, faculty and staff are invited to join WGST in its fight to end workplace sexual violence against farmworker women by decorating a bandana. Bandanas can be picked up at the WGST office, located in Carswell Hall on North Oak Street.


On Thursday, April 26, WGST will host the inaugural Valdosta Community SlutWalk at 5 p.m. The march will begin at Palms Quad. SlutWalk protest marches began in April 2011 in Canada in response to a law enforcement officer's comment suggesting that women are victimized because they dress like "sluts". The march promotes freedom of expression and appearance, while denouncing negative labels.

For more information about these events, visit http://www.valdosta.edu/womenstudies/ or contact WGST at (229) 249-4842.

General VSU Information
Office of Communications
Campus Address
Office of Communications Powell Hall West, Suite 1120
Mailing Address
1500 N. Patterson St.
Valdosta, GA 31698