VSU Hosts Second Annual Volunteer Service Fair
VSU Hosts Second Annual Volunteer Service Fair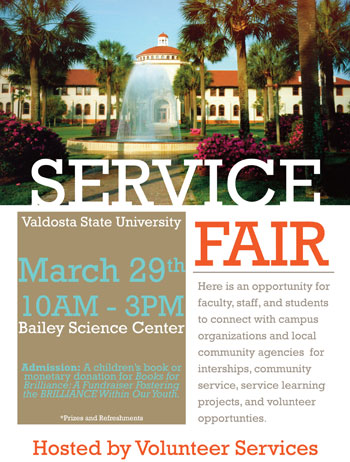 VALDOSTA -- Valdosta State University will hold its second annual Volunteer Service Fair from 10 a.m. to 3 p.m. Thursday, March 29 at the Bailey Science Center. Hosted by the Office of Volunteer Services, the fair will allow students to see what community service opportunities are available to them on and off campus.

Volunteer Services is currently registering exhibitors for the event. All volunteer organizations are encouraged to attend the fair as exhibitors, with tables limited to one per organization. Exhibitors are welcome to bring anything they would like to promote their organization including display boards, brochures, games, food and information on volunteer opportunities, internships and special events.

Organizations and businesses can also sponsor or make donations for the event. Donations will be used for prize giveaways and t-shirts. The logos of all businesses or organizations that donate $150 or more will be listed on the VSF t-shirt.

Attendees are encouraged to donate a children's book or monetary donation for Books for Brilliance during the event. Books for Brilliance is a fundraiser fostering the brilliance within local youth by promoting literacy awareness. All proceeds will be donated to the new Hudson Dockett Library.

To reserve a table, become a sponsor or donor or volunteer to during the event for service hours, please contact the Office of Volunteer Services at (229) 333-5941 or volunteer@valdosta.edu.
Newsroom
Office of Communications Powell Hall West, Suite 1120
Mailing Address
1500 N. Patterson St.
Valdosta, GA 31698
General VSU Information
Office of Communications