March 21, 2012
12-75
Sara Lynn McCall Graduate Assistant
Graduate Coordinator Maria Whyte Receives Alumni Award fromUniversity of South Carolina Aiken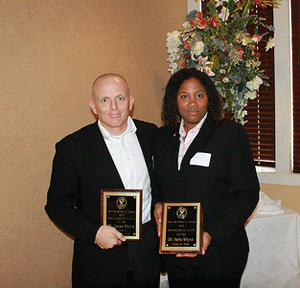 VALDOSTA -- VSU Assistant Nursing Professor and Graduate Program Coordinator Maria Whyte was honored by the University of South Carolina Aiken School of Nursing as an inaugural recipient of the Distinguished Alumni Award, along with her husband, Dr. James Whyte IV.

Whyte received the award during the University Of South Carolina Aiken School of Nursing Alumni Brunch at Houndslake Country Club on Saturday, Feb. 18. The brunch celebrated the College of Nursing's 40th year and recognized inaugural "distinguished alumni."

"The award is humbling. As a student, your faculty becomes your heroes," said Whyte, who completed her RN-BSN from USCA. "The faculty of USCA has influenced the nurse educator that I have become. I see the influence of my experiences at the School of Nursing often in the things I say and do, in the clinic and the classroom. When you are surrounded by the faculty that have formed you as an educator, it is humbling to be recognized by them."

Whyte and her husband both attended the University of South Carolina Aiken after he left the Marine Corps to attend nursing school. Whyte was an Associates Prepared Nurse but had always planned to return for her BSN. They graduated together in 1996. Whyte has been at VSU since 2003 and is the Graduate Coordinator for the nursing program.
General VSU Information
Office of Communications
Campus Address
Office of Communications Powell Hall West, Suite 1120
Mailing Address
1500 N. Patterson St.
Valdosta, GA 31698