February 13, 2012
12-34
Sara Lynn McCall Graduate Assistant
Spectator Brings Home Four Awards from Georgia College PressAssociation's Better Newspaper Contest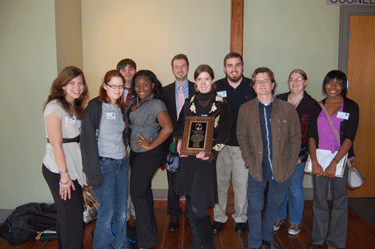 VALDOSTA -- The Spectator, Valdosta State University's independent student newspaper, brought home four awards from this year's Georgia College Press Association's Better Newspaper Contest. The competition was held on Feb. 3-4, and ten staff members made the trip to Athens on Friday afternoon, along with Advisor Dr. Pat Miller and Editorial Advisor Dr. Ted Geltner.

The four staff awards include:
1st place for Best Campus Community Service -- Editorial
2nd place for General Advertising
2nd place for General Photography
3rd place for Best Website

"I am really proud of the paper and how far we have come," Stephanie Turner, editor-in-chief, said. "I know that we will continue to succeed and bring home even more awards next year."

The Spectator competed in 4 Year Division A, which is the highest division and includes other top schools such as Emory, Georgia Tech and Georgia Southern. Different sessions were held on Saturday, and two staff members attended each session to be able to report back what they learned to the other Spectator staff members.

Dr. Miller's The Law and Journalism class completed a semester-long project in the fall to create a Georgia Open Records/Meeting Guide, which was on display at a table hosted by the class during the competition. Participants were able to view the hard work done by the class, and the guide is now posted on the GCPA website.

For more information, contact Turner at sdturner@valdosta.edu. The Spectator publishes each Thursday during spring and fall semesters and can be viewed online at www.vsuspectator.com. More information about GCPA is available online at www.gapress.org/gcpa.html.
General VSU Information
Office of Communications
Campus Address
Office of Communications Powell Hall West, Suite 1120
Mailing Address
1500 N. Patterson St.
Valdosta, GA 31698