February 8, 2012
12-31
Jessica Pope
Communications and Media Relations Coordinator
MLIS Student to Represent VSU at American Library AssociationConference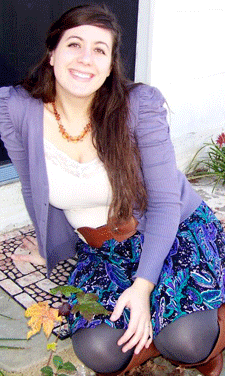 VALDOSTA -- Chelsea Kovalevskiy was one of 40 students from across the United States recently selected to participate in the American Library Association's (ALA) Student to Staff Program.

The Master of Library and Information Science (MLIS) Program student will travel to Anaheim, Calif., June 21-26 to assist association staff during their 2012 annual conference. In exchange for working four hours a day, Kovalevskiy will receive free conference registration, housing, and a per diem for meal expenses. During her free time, she will be able to attend programs and participate in conference activities.

Kovalevskiy, who lives in LaFayette and works as the youth education coordinator for the LaFayette-Walker Public Library, said she looks forward to working behind the scenes of such a major conference, building relationships with the people who run the ALA, and learning new things.

"This annual conference is something that would be beneficial to any librarian in any system," said the 26-year-old daughter of Robin Doherty and Willie Weaver, both of LaFayette. "With funding being what it is and budget cuts throughout the state and across the country, there is no way my library could ever afford to send someone to California. This is something that will benefit me as a professional and a student, and it will benefit my library as well as all the libraries in Walker and Dade counties."

To be considered for the ALA's Student to Staff Program, Kovalevskiy had to write an essay explaining why she believed she was the best candidate for the position. She was selected in early February and asked to complete a brief questionnaire to help match her with an appropriate ALA staff member.

"I am hoping to be assigned to the young adults and children division," she said. "That way I will be able to work with groups that relate to what I do now."

As the youth education coordinator for the LaFayette-Walker Public Library, the wife of Nikita Kovalevskiy -- the two met in the Peace Corps, after she graduated with a bachelor's degree in history from Azusa Pacific University in Azusa, Calif. -- explained that she is in charge of the children, teen, and juvenile collections and programming.

Kovalevskiy has been a member of the ALA since December of 2009. She has been a member of the VSU chapter of the association since January of 2011. She plans to graduate from VSU with a Master of Library and Information Science degree in December of 2012.

Founded on Oct. 6, 1876, during the Centennial Exposition in Philadelphia, Pa., the American Library Association was created to provide leadership for the development, promotion, and improvement of library and information sciences and the profession of librarianship in order to enhance learning and ensure access to information for all. Its motto is, "The best reading, for the largest number, at the least cost."

To learn more about the American Library Association, please visit www.ala.org.

To learn more about VSU's Master of Library and Information Science Program, please call (229) 333-5966, send an email to mlis@valdosta.edu, or visit www.valdosta.edu/mlis.
General VSU Information
Office of Communications
Campus Address
Office of Communications Powell Hall West, Suite 1120
Mailing Address
1500 N. Patterson St.
Valdosta, GA 31698