Ganas Named Assistant Director of Landscape and Grounds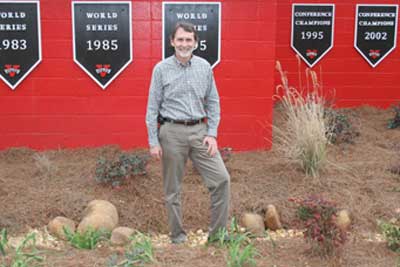 VALDOSTA -- Valdosta State University welcomed Brett Ganas as its new assistant director of landscape and grounds on Nov. 2, 2011.

A Valdosta native, Ganas earned a bachelor's degree in biology from Valdosta State in 1989. He later received a bachelor's degree in landscape architecture from the University of Georgia in 1995. He has owned a private landscape design firm in Valdosta since 1997 designing several buildings on campus including the student union and the psychology building.

When the assistant director of landscape and grounds position became available at VSU, Ganas felt like it was an opportunity to give something special back to his alma mater.

"I got excited because I know that through this position, I can have a profound effect on the campus by making it a beautiful place," Ganas said. "That's an effect that will last. The campus has a landscape heritage and I can build on that by bringing sustainable elements to it, and that is meaningful."

As assistant director, Ganas oversees landscape maintenance, irrigation and planning and the design and installation of new landscape projects. Since he joined the VSU staff, he has been responsible for landscape and drainage improvements at Billy Grant Field and is currently working on the design of the retirement walkway between the Bailey Science Center and West Hall.

Ganas has also secured 42 trees to be planted over the next few months, including a live oak that will be planted on the front lawn on Arbor Day.

Ganas has expressed hopes to enhance the campus landscape through other projects in the future, such as rain gardens, drought resistant plants and revitalizing One Mile Branch.

Ganas is married with five children, one of whom attends VSU and will graduate this semester.
General VSU Information
Office of Communications
Campus Address
Office of Communications Powell Hall West, Suite 1120
Mailing Address
1500 N. Patterson St.
Valdosta, GA 31698