Annual Blazer Buddies Event a Success
February 13, 2012
12-35
Sara Lynn McCall Graduate Assistant
Annual Blazer Buddies Event a Success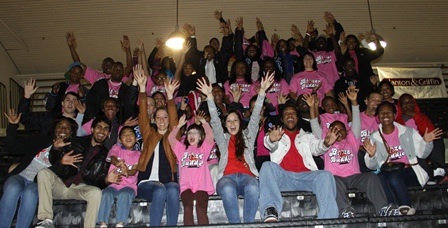 VALDOSTA -- Blazer Buddies, an annual community outreach event, was held on Saturday, Feb. 11, in the P.E. Complex during the basketball game against North Alabama. This event, which began in 2005 under the direction of then Assistant Dean of Students Richard Lee, allows VSU students to mentor local youth for an evening.

The purpose of Blazer Buddies is to use a sporting event to pair youth who may have limited opportunities with an enthusiastic college student for the evening. This year's event was coordinated by Lee and Diane Howard, director of Lowndes County Partnership For Health's ConAgra Youth Action Project.

"Having organized similar activities for inner city youth for many years, I recognize the great need of more opportunities to interact and build relationships with youth," said Howard. "Rallies, summits, workshops, conferences, and speeches are nice, but one-on-one time with youth is the key to building a relationship and truly making a different in the lives of the youth of our community."

Howard recruited 100 local youth and 20 chaperones from six local youth groups to participate. Groups included All4Kids Future, American Sign Language Club, Georgia Sheriffs' Boys Ranch, Heart2Heart, His Hands Ministries and VSU SIFE Hudson Dockett Project. If it wasn't for the 100-youth limit, Howard could have recruited four or five times that many children.

For more information about the program, contact Howard at dhoward202@mchsi.com.


Newsroom
Office of Communications Powell Hall West, Suite 1120
Mailing Address
1500 N. Patterson St.
Valdosta, GA 31698
General VSU Information
Office of Communications