VSU Opera Performs 'Don Giovanni' Feb. 3-5
January 30, 2012
12-22
Jessica Pope
Communications and Media Relations Coordinator
VSU Opera Performs 'Don Giovanni' Feb. 3-5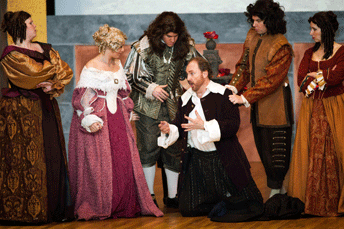 VALDOSTA -- Valdosta State University Opera will kick off weekend performances of "Don Giovanni" with a youth presentation at 10 a.m. on Friday, Feb. 3, in the Fine Arts Building's Whitehead Auditorium.

Performances are also scheduled at 7:30 p.m. on Saturday, Feb. 4, and at 3 p.m. on Sunday, Feb. 5.

Tickets for this main stage production with orchestra are free for VSU students with identification, $5 for non-VSU students, and $15 for all others.

"'Don Giovanni' has something for everyone's taste," said Dr. Carol Mikkelsen, head of the Department of Music's voice area and opera director. "The legend of Don Juan is always fascinating; its telling in the opera is … humorous, poignant, and dramatic. The music of Mozart is wonderful; the visual effect -- with … set pieces, projected images, and beautiful costumes -- is striking. In other words, it is a wonderful spectacle."

The show features about 40 students, including an all-student orchestra, who have been working together since October. Mikkelsen said they are "very excited about performing this classic and phenomenal musical work."

An opera in two acts, "Don Giovanni" features music by Wolfgang Amadeus Mozart and libretto by Lorenzo da Ponte. It premiered in Prague on Oct. 29, 1787.

According to the conductor's notes for the show, the storyline is simple: "Don Juan (Giovanni in Italian) attacks a noblewoman, Donna (Lady) Anna, and her father, the commendatore, comes to her aid. In the ensuing fight, he is killed. Later, Giovanni and his servant, Leporello, find themselves beside a statue of the commendatore. The statue berates Giovanni, and Giovanni impulsively invites the statue to dinner. At dinner, the stone guest arrives and drags Giovanni down to hell. Filling out the plot are other women, intrigues, and scandals."

VSU Opera's production of "Don Giovanni" is dedicated to Dr. Kenneth Rumstay, a professor in the Department of Physics, Astronomy, and Geosciences and a long-time devotee and benefactor of the university's opera program.

This is VSU's fourth Mozart production.

In his written greeting to opera patrons, Dr. Louis Levy, interim president, said he knows everyone who attends the show "will be delighted and entertained by this classic opera performance."

Tickets can be purchased at the door or by visiting www.valdostasymphony.org and clicking on the ticket link at the top of the page.

For more information about the areas of study within VSU's Department of Music or the upcoming performances of "Don Giovanni," please call (229) 333-5804 or visit www.valdosta.edu/music.
Newsroom
Office of Communications Powell Hall West, Suite 1120
Mailing Address
1500 N. Patterson St.
Valdosta, GA 31698
General VSU Information
Office of Communications