VSU Commemorates the Life and Legacy of Dr. Martin Luther King, Jr.
VSU Commemorates the Life and Legacy of Dr. Martin Luther King, Jr.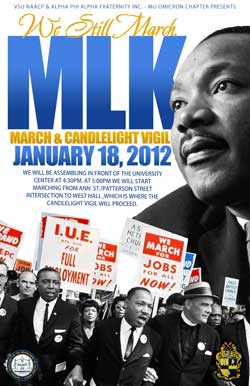 "We are not makers of history. We are made by history." -- Dr. Martin Luther King, Jr.

VALDOSTA -- Valdosta State University will honor the legacy of Dr. Martin Luther King, Jr. with a list of events throughout the next week.

The African American Studies Program invites students, faculty, staff and community members to attend the free campus screening of STAND at 7 p.m. Wednesday, Jan. 11 in the Student Union Theater. The documentary features talk show host, political commentator and philanthropist, Tavis Smiley, who explores diversity and black male experiences in the U.S. The film also features well-known black male scholars, artists and critics such as Cornel West, BeBe Winans, Michael Eric Dyson and Isaac Hayes.

A panel discussion of STAND will be held the next day, Thursday, Jan. 12, at 9:30 a.m. in the University Center Theater.

Later at 7 p.m. Thursday, the Philosophy Department will host a panel discussion on the life and work of Dr. Martin Luther King, Jr. in the Bailey Science Center Auditorium. The panel will consist of local religious and community leaders, including Rabbi Moshe Elbaz from Temple, Israel; Rev. Floyd Rose, pastor of Serenity Christian Church and president of the Valdosta/Lowndes Chapter of the Southern Christian Leadership Conference; Imam Yahya Mat Som from the Valdosta Islamic Cultural Center; and Michael Stoltzfus, professor of religious studies at VSU. The panel discussion will be moderated by Fred Downing, department head and professor of philosophy and religious studies at VSU.

On Wednesday, Jan. 18, a commemorative march and candlelight vigil will be held. Line-up for the march, which is hosted by the VSU NAACP, Alpha Phi Alpha Fraternity-Mu Omicron Chapter and Office of Social Equity, begins at 4:30 p.m. at the University Center on the corner of Ann and Patterson streets. The march ends at the front lawn. The vigil will be held in front of West Hall and include words from VSU President Louis Levy and Rev. Floyd Rose.

All events are a collaborative effort of the VSU Martin Luther King, Jr. Celebration Planning Committee, which is comprised of the host departments and organizations.

For more information, contact the Office of Social Equity at (229) 333-5463.


Newsroom
Office of Communications Powell Hall West, Suite 1120
Mailing Address
1500 N. Patterson St.
Valdosta, GA 31698
General VSU Information
Office of Communications