Jobs and Internships through Co-op
Jobs and Internships through Co-op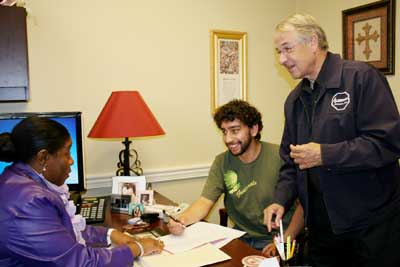 VALDOSTA -- While searching for work to cover costs during his sophomore year at Valdosta State University, Miguel Pena felt it wise to target positions that provided him with skills pertinent to his career choice. With this in mind, he visited the Office of Cooperative Education for job search assistance. Today after working with Co-op throughout his undergraduate studies, and now as a graduate student, Pena feels he is well-prepared for a job in his field after he graduates.

Through Co-op, the instructional technology graduate student has been able to perform several roles in engineering and information technology with Alert-Tech Systems, Inc., and while working summers in Philadelphia, Indianapolis and Texas with Southern Converting.

"This experience has been very positive because I was able to use what I learned in college in each of my positions," said Pena. "Everytime, I reached out to Co-op for assistance and direction, the office helped me."

Pena will receive his master's degree in May and hopes to work in IT for a university. His current boss, Robert Winter, president and co-owner of Alert-Tech, is confident that Pena will excel in any position he fills.

"He has a tremendous resume," said Winter. "He has developed himself professionally, and his education and experience definitely put him a notch above several electricians and engineers in this field."

Pena is one of approximately 300 students Co-op assists with locating jobs and internships every semester. Co-op helps students build their resumes while in college by identifying positions that mirror their majors and career preferences. The office continues to encourage more students to utilize its services.

"We remain steady with Co-op and internship placements, but the biggest issue we notice is that students often wait until the last minute to find job opportunities," said Cooperative Education Interim Assistant Director Carla Jordan. "By the time some students come see us, they are close to graduation and need to be looking for permanent employment."

Jordan said that it is beneficial for students to seek assistance early in their college careers to get the best possible internships and on-the-job experience. Co-op works with several employers in the public and private sectors to secure opportunities for students.

"Some of our students work with local, state and federal government agencies. The federal positions are highly competitive, but we assist with the application process."

Many popular positions with private entities are highly competitive as well, but offer experience in various career fields. Jordan mentioned that several business and mass media majors have interned with the PGA tour, while some theater majors have been successful as characters at Disney World through the Disney College Program.

"Last summer, a speech communications student interned with Ibarra Strategy Group in Washington D.C., where she helped coordinate events that included President Obama and Eva Longoria," Jordan said. "After she returned to VSU for fall classes, she continued to telecommute with the company."

Although the semester has just begun, Jordan urges students who are interested in summer internships to start planning now.

"Some of the bigger opportunities take three to six months to locate and secure. We assist students with local and out-of-town internships, but a wider variety of opportunities are available to those who are willing to travel. The variety is also wider for those who are open to unpaid internships. We ask that the students be mindful of the skills they already have as well as those they wish to strengthen or acquire during these opportunities."

Students who wish to participate in Co-op must be in good academic standing and have completed 30 credit hours at VSU.

For more information, visit the Office of Cooperative Education, located on the first floor of Powell Hall West in room 1100, call (229) 333-7172 or e-mail coop@valdosta.edu.
Newsroom
Office of Communications Powell Hall West, Suite 1120
Mailing Address
1500 N. Patterson St.
Valdosta, GA 31698
General VSU Information
Office of Communications