Dr. Hugh C. Bailey Inducted Into Pi Gamma Mu Hall of Fame
January 4, 2012
12-3
Jessica Pope
Communications and Media Relations Coordinator
Dr. Hugh C. Bailey Inducted Into Pi Gamma Mu Hall of Fame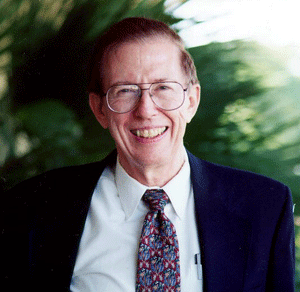 VALDOSTA -- Valdosta State University President Emeritus Dr. Hugh C. Bailey was recently inducted into the Pi Gamma Mu Hall of Fame.

"The Board of Trustees would like to thank you for your dedication to the Alabama Gamma, South Carolina Lambda, and Georgia Theta chapters of Pi Gamma Mu and the many students you have inducted into membership," Sue Watters, executive director of Pi Gamma Mu, noted in a letter to Bailey. "Congratulations on receiving this well-deserved award."

Pi Gamma Mu is an international honor society dedicated to encouraging and promoting excellence in the social sciences and to upholding the ideals of service and scholarship. Bailey became a member of the organization as an undergraduate student at Samford University in Alabama. He earned his bachelor's degree in 1950 and went on to earn master's and doctoral degrees in history from the University of Alabama, in 1951 and 1954, respectively.

Bailey returned to Samford University as a history and political science instructor in 1953, working his way up the ranks to assistant professor, associate professor, professor, head of the Department of History and chairman of the Division of Social Sciences, and finally, dean of the Howard College of Arts and Sciences. While there, he became sponsor of the school's chapter of Pi Gamma Mu.

In 1967, Bailey joined the Pi Gamma Mu Board of Trustees, serving initially as vice chancellor and then chancellor of the southeast region.

Bailey established a chapter of the honor society at Francis Marion College in South Carolina when he was named vice president of academic affairs in 1975, and he did the same when he assumed the role of president of Valdosta State College in 1978.

In 1984, Bailey was named president of Pi Gamma Mu, serving two three-year terms. Under his leadership, the honor society's constitution was revised to make it more democratic, reflecting the current structure of having individual chapters elect national officers and regional chancellors. Around this same time, the decision was made to include two student representatives on the organization's board, and the first efforts were made to computerize the functions of the executive headquarters.


A LOOK BACK AT BAILEY'S 23 YEARS AT VSU

Just as he did as a leader with Pi Gamma Mu, Bailey left behind a lasting legacy of achievement when he officially retired as president of VSU on June 30, 2001. (He continued to serve until the university's seventh president, Dr. Ronald M. Zaccari, took office in 2002.)

Bailey facilitated millions of dollars in new construction, including the new Special Education and Communication Disorders Building, an addition to the Odum Library, a state-of-the-art Student Recreation Center, and the Biology/Chemistry Building, which was formally named the Hugh C. Bailey Science Center in 2006. Although new construction exceeded more than $60 million during his tenure, he always said that he would have liked to have done more.

Under Bailey's watch, Valdosta State transitioned from college to university on July 1, 1993. As a regional university, he said VSU would have a positive impact on the lives of many more students. Also, academic standards were increased and many new programs were added, including a master's in business administration, master's in public administration, master's in social work, doctorate in education, and master's in library and information science.

"Education, more than any other factor, is key to economic and social development," he was quoted as saying in a special section published in his honor by The Valdosta Daily Times in June 2001. "More than any other institution, we are responsible for seeing that this region of the state receives the education it needs. We have to be the prime moving force for economic and cultural development in our region of the state, and if we fulfill that mission, then this institution should continue to grow and increase in stature."

Bailey presided over expanded athletic programs, including a new P.E. Complex and the establishment of a football team, the renovation of West Hall and Pound Hall, and the transformation of a former shopping center into additional learning space, known as the University Center. He pioneered a long-distance education program and the expansion of off-site campuses, such as that at Kings Bay Naval Submarine Base. He was instrumental in making the world of fine arts available to all of South Georgia and helped establish the Valdosta Symphony Orchestra in 1990.

At the time of Bailey's retirement, approximately 8,800 students from 48 states and 53 countries were seeking higher education in South Georgia; enrollment doubled during his presidency. He predicted then that the university's best days were yet to come as it continued to emerge as a top-notch regional institution.

In November, VSU's fall semester enrollment was at 13,089.
Newsroom
Office of Communications Powell Hall West, Suite 1120
Mailing Address
1500 N. Patterson St.
Valdosta, GA 31698
General VSU Information
Office of Communications