One Name at a Time, VSU Honors the Fallen on Veterans Day
November 11, 2011
11-217
Jessica Pope
Communications and Media Relations Coordinator
One Name at a Time, VSU Honors the Fallen on Veterans Day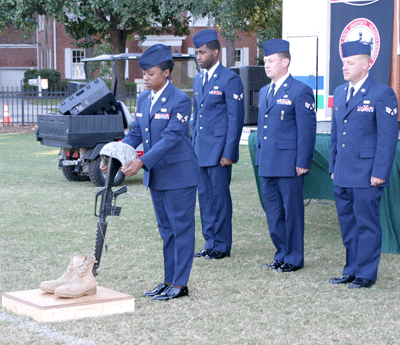 VALDOSTA -- Senior Airman Jason Cunningham. Staff Sergeant Jason Hicks. Senior Airman Jason Plite. Lieutenant Colonel John Stein. Staff Sergeant John Teal. Master Sergeant Michael Maltz. First Lieutenant Tamara Long Archuleta. Airman First Class Leebernard Chavis.

One by one, the names of fathers and mothers, sons and daughters, sisters and brothers were read aloud during Valdosta State University's Remembrance Day National Roll Call event Friday. Fifty-two community and university citizens braved the cool morning temperature and chilling winds to honor the 6,300-plus men and women who have lost their lives in service to America in both Operation Enduring Freedom and Operation Iraqi Freedom in the past decade.

"Our purpose is simple," said Patricia M. Hinton, military outreach group liaison with VSU's Adult Degree Completion & Military Programs. "We want those still serving to know that we have not forgotten their sacrifices, or those of the fallen."

The reading of the names continued for several hours, pausing only for a minute of silence and the sounds of "Taps" at the 11th hour, 11 a.m. Pacific Standard Time/2 p.m. Eastern Standard Time. The mood was somber, especially when the names of the eight Moody Air Force Base team members who sacrificed their own lives so others would have a chance to live were read.

Throughout the seven-hour service, small groups of people gathered on the VSU front lawn, often huddling together for both comfort and warmth. While some of them were only able to stay a few minutes, many took the time to write a letter of encouragement and support to active-duty military personnel stationed in Iraq and Afghanistan through That Others May Live Foundation, a nonprofit organization that provides scholarships, family counseling, and aid to surviving children of Air Force rescue heroes who gave the ultimate sacrifice.

VSU Interim President Dr. Louis H. Levy served as a medic in the Army in the early 1970s. He said that he was very proud of the university's relationship and history with the military.

Referring to Air Force ROTC Detachment 172, Levy said, "The 'esprit de corps' of this group is unmatched, and for more than 30 years … (this group) has been preparing men and women for service to our country."

Levy noted that VSU has a tradition of recognizing retired and active-duty military service men and women at every commencement ceremony, and in 2006, Donald Rumsfeld, then secretary of defense, recognized the campus for acknowledging its cadets during these same ceremonies.

"We provide post-secondary education opportunities at Moody Air Force Base and Kings Bay Naval Submarine Base," he continued. "This year, Valdosta State University was named a Military Friendly School by GI Jobs magazine, a distinction we have received for several years. This national recognition ranks VSU among the top 20 percent of all colleges, universities, and technical schools nationwide for its service to military members and veterans as students. Last year, VSU established the Adult [Degree Completion] & Military Programs (AMP) to help improve degree completion for adult learners, with particular attention [paid] to members of the military and veterans."

The Remembrance Day National Roll Call event was sponsored locally by VSU's chapter of Student Veterans of America (VSU Vets).

This year, Veterans Day, which fell on the 11th day of the 11th month of the 11th year, marked the 10th year of post Sept. 11 combat. The objective was to have students from at least one school in every state read all the names of those who have made the ultimate sacrifice in Operation Enduring Freedom and Operation Iraqi Freedom.

The names were read in chronological order, beginning with the name of the first person to lose his life in one of the two wars -- Master Sergeant Evander E. Andrews -- and ending with the name of the most recent casualty known -- Lance Corporal Nickolas A. Daniels, who died on Nov. 4.

"Reading each and every name of a fallen soldier highlights the importance of the individual lives lost," said Mark A. Smith, a VSU senior, retired Air Force master sergeant, and president of VSU Vets. "We are privileged to help the nation remember their sacrifices."

The Veterans Knowledge Community of NASPA Student Affairs Administrators in Higher Education sponsored the Remembrance Day National Roll Call nationally. With more than 12,000 members in all 50 states, 29 countries, and eight United States territories, NASPA advocates for the advancement, health, and sustainability of the student affairs profession at colleges and universities. The Veterans Knowledge Community focuses its efforts on student veterans and ensuring that their unique needs are being met.

Retired Army Lt. Col. Brett Morris, Remembrance Day National Roll Call coordinator, said, "We wanted to rally campus communities across the nation to send a powerful message to the troops currently serving ..."

The names that were read during the Remembrance Day National Roll Call were recorded by icasualties.org.

VSU's Adult Degree Completion & Military Programs helped to coordinate the event.

For more information about the Remembrance Day National Roll Call service, please contact Mark A. Smith, president of VSU's chapter of Student Veterans of America and military and veteran liaison for VSU's Adult Degree Completion & Military Programs, at (229) 253-2873 or AMP@valdosta.edu. Also on the Web: www.naspa.org, icasualties.org and www.thatothersmaylive.org.
Newsroom
Office of Communications Powell Hall West, Suite 1120
Mailing Address
1500 N. Patterson St.
Valdosta, GA 31698
General VSU Information
Office of Communications