VSU Faculty, Staff & Students Share Favorite ThanksgivingRecipes
November 21, 2011
11-227
Sara Lynn McCall, Graduate Assistant, Office of Communications
VSU Faculty, Staff & Students Share Favorite ThanksgivingRecipes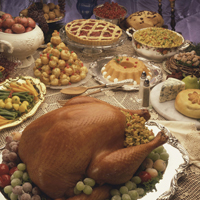 VALDOSTA -- Thanksgiving is a time to be thankful for good food, family and fun memories together. We have compiled a list of favorite Thanksgiving recipes from VSU faculty, staff and students that they have enjoyed over the years. Pick a recipe that appeals to you and surprise your family and friends with a new dish this year!

Susanna Martin
Event Coordinator for Alumni Relations

"I use this recipe for our holiday meals because our family was out to eat I Atlanta for brunch one day and these muffins were served. They were a hit, so I duplicated the recipe because I already know that everyone enjoys them."

Carrot Mini Muffins

Ingredients:
2 cups flour
2 teaspoons baking soda
2 teaspoons cinnamon
¼ teaspoon salt
1 and ¼ cups sugar
8 ounces carrots, coarsely shredded
½ cup chopped pecans
½ cup raisins
3 eggs
1 cup corn oil
2 teaspoons vanilla extract
1 granny smith apple, peeled and shredded

Directions:
Preheat the oven to 350 degrees. Sift the flour, baking soda, cinnamon, salt and sugar into a large bowl and mix well. Add the carrots, pecans and raisins and toss to coat. Combine the eggs, corn oil and vanilla in a medium bowl and mix well. Add the flour mixture and the apple and mix just until combined. Divide the batter among greased mini muffin cups (about 36), filling the cups ¾ full. Bake at 350 degrees for 15-20 minutes or until a pick inserted in the center comes out clean. Cool in the pans for 5-10 minutes. Remove to wire racks to cool completely. Serve with softened unsalted butter.

Mike Savoie
Assistant Dean, College of the Arts

"Growing up Cajun in South Louisiana, the holiday season coincides with oyster season. We traditionally would have oyster dishes and raw oysters at most occasions. This would include roasted oysters and stews but my favorite oyster dish served at Thanksgiving was oyster dressing. It wasn't until I moved to Valdosta that I realized that oyster dressing was unique to South Louisiana. I occasionally go back to Louisiana for Thanksgiving and my mother's oyster dressing is still the best."

Oyster Dressing

Ingredients:
5 ounces of shucked oysters with the oyster liquor
1 stick of butter
2 medium to large onions
3 celery stalks
1 bell pepper
4 cloves of garlic
1 stale French bread (about 18 ounces of bread crumbs)
1 teaspoon of sage
Salt and pepper to taste
Chicken stock if needed

Directions:
Sauté the chopped onions, celery, bell pepper, and garlic in butter. Cook until the seasoning is translucent, add the sage, salt, and pepper (you could also add Cajun seasoning mixture if desired). Chop half of the oysters and leave the other half whole then place them in the sauté mixture. After the oyster edges curl, add the oyster liquor and bread. If it is too dry add some chicken stock or broth. Place the dressing in a casserole and bake at 325 degrees for 40-45 minutes.

Jackie Ruffin
Senior Criminal Justice and Psychology Major

"I love pasta, and macaroni & cheese is one of my all time favorites during the holidays."

Macaroni and Cheese Casserole

Ingredients:
16 oz. box of elbow macaroni
2 bags of shredded mild cheddar
2 bags sharp cheddar
1 egg
¼ cup milk
1 stick of butter

Directions:
Preheat oven at 350 degrees. Boil macaroni until tender. Drain noodles and rinse. Transfer into a mixing bowl, place stick of butter in and let melt. Beat egg and milk in another mixing bowl. Pour one bag of mild cheddar cheese into bowl with macaroni and butter. Mix in half of the of milk and egg solution. Pour one bag of sharp cheddar cheese into the bowl and mix in the remainder of the milk and egg solution. Transfer to a casserole dish. Take the remaining two bags of cheese and sprinkle over top of macaroni. Bake for about 30 minutes.

Ann Lacey
Cooperative Education Coordinator

"For many years our Thanksgiving tradition, like many, would be to visit "grandmother's" house. For us, that meant traveling to my mother-in-law's house in Pitts, Ga. However, in recent years, we have begun to spend and host Thanksgiving with families who are new to the community and who do not have families nearby. This is the way we now celebrate the Thanksgiving holiday."

Cheese Apple Casserole

Ingredients:
1 pound pasteurized processed cheese
1 cup butter
1 ½ cups all-purpose flour
1 ¾ cups sugar
3 (16 ounce) cans sliced apples, drained (not apple pie filling)

Directions:
Melt cheese and butter in microwave. Add flour and sugar; blend well. Arrange apples in bottom of lightly greased 13 x 9 x 2 inch baking dish. Pour cheese mixture over apples. Bake at 350 degrees for 20-30 minutes or until bubbly. Yield: 12 to 15 servings.

Earnest Duncan
Catering Chef

Earnie's Seafood Cornbread Dressing

Ingredients:
3 cups cornbread Mix
2 cups all-purpose flour
4 eggs
3 sticks melted butter
2 tablespoons sugar
¼ cup to ½ cup milk

Directions:
Mix above ingredients together, add enough milk make consistency like a cake batter, pour into greased casserole dish or iron skillet. Bake in 350 degree, pre-heated oven, for approximately 30 to 35 min or until toothpick comes out clean. You can use Uncle Bens Cornbread Stuffing Mix, follow package directions.

When cornbread has cooled crumble into baking dish. Add poultry seasoning, salt and pepper to taste, 1 cup chopped celery, 1 cup chopped onion, approximately 1 lb. chopped shrimp, 1 lb. chopped oysters, 1 lb. chopped scallops stir until mixed well. Add chicken broth, approximately 1 to 2 cups, until the dressing is as moist as you like. Bake for 25 to 30 min. at 350 degrees. Serve with giblet gravy.

Debbie Conrad
Director of Catering

Debbie's Pecan Pie

Ingredients:
1 Pillsbury pie crust (type that is in the cooler section at your grocer)
3 large eggs
1 stick butter
2/3 cup light Karo syrup
1 cup sugar
2 cups chopped pecans

Directions:
Place pie crust in 9 or 10 inch pie plate. Beat 3 large eggs until well mixed, add pinch of salt and teaspoon of vanilla, stir, set aside. Place butter, Karo syrup and sugar into a sauce pan and heat until it comes to a full boil stirring constantly. When the syrup mixture reaches boiling remove from heat and immediately pour slowly, thin stream, into egg mixture beating as you pour. You will have scrambled eggs if you pour all the hot syrup mixture in at once or pour a large amount of hot mixture into your eggs. Add to mixture 2 cups chopped pecans; stir into hot egg mixture. Pour into your unbaked pie shell. Bake in a pre-heated 375 degree oven for 30-35 minutes. Lightly shake your pie; if center does not move pie is done. Should your crust or pecans start to get to dark, lay a piece of aluminum foil on top of pie until it finishes baking. Let pie cool completely before cutting.


Newsroom
Office of Communications Powell Hall West, Suite 1120
Mailing Address
1500 N. Patterson St.
Valdosta, GA 31698
General VSU Information
Office of Communications