McMillan Named Assistant Director of VSU Counseling Center
McMillan Named Assistant Director of VSU Counseling Center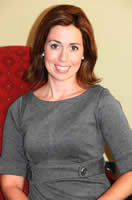 VALDOSTA -- Dr. Leah McMillan, LMFT, became assistant director of Valdosta State University's counseling center on Sept. 1.
McMillan has been a member of the counseling center staff since 2005.

"I would like to thank Counseling Center Director Dr. John Grotgen and Vice President of Student Affairs Russ Mast for their faith and trust in offering me this opportunity as assistant director," said McMillan. "I take great pride in being part of the counseling center family at VSU. The counseling center entails a true student-driven mission to ensure we provide necessary and invaluable counseling services to our students."

McMillan holds a bachelor's degree in criminal justice, a master's degree in marriage and family therapy and a Doctor of Public Administration with a concentration in higher education, all from Valdosta State University.

An active member of the community, McMillan serves on the Lowndes County Family Violence Task Force and the Lowndes County Sexual Assault Response Team. She is also is a clinical member of the American Association for Marriage & Family Therapy and Georgia Association for Marriage & Family Therapy, and a current member of Student Affairs Administrators in Higher Education and Association of Threat Assessment Professionals. She has served on the Lowndes County Child Abuse Council and the Georgia Network to End Sexual Assault.

McMillan is often invited to serve as a speaker and panelist for local and state conferences on topics pertain to mental health, sexual violence, child abuse, domestic violence and post-traumatic stress disorder. Her accomplishments and awards include: Honorary Victim Advocate Award from The Haven Rape Crisis Center Advisory Committee in 2003, Service to the Division of Student Affairs Award in 2005 and a certificate of appreciation from the American Counseling Association (ACA) for participation in the ACA Virginia Tech Pro-Bono Counseling Initiative. She was also recognized for her contributions to the Greek community at VSU in 2006.
Newsroom
Office of Communications Powell Hall West, Suite 1120
Mailing Address
1500 N. Patterson St.
Valdosta, GA 31698
General VSU Information
Office of Communications