Holiday Helper Project Celebrates the Spirit of Giving
Holiday Helper Project Celebrates the Spirit of Giving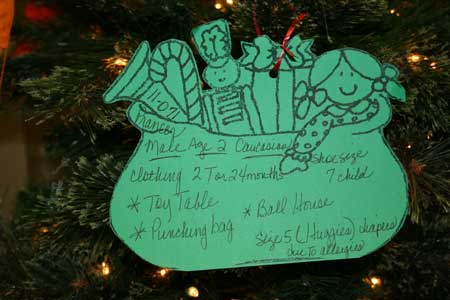 VALDOSTA -- In the spirit of giving, Valdosta State University invites students, faculty and staff to help area children and adolescents in need through the Holiday Helper Project.

A Holiday Helper Tree adorned with 89 ornaments -- each identifying the needs of area children and adolescents -- is located on the third floor of the Student Union in the Student Affairs Office. Those who participate in the project are encouraged to pick an ornament off the tree and fulfill the holiday wish on ornament. It is asked that three brand new gifts are purchased per ornament, per child.

Holiday Helper is hosted by the Office of Volunteer Services and Counseling Center, which have partnered with the Lowndes County Child Advocacy Center and Behavioral Health Services of South Georgia to identify disadvantaged children in the region. Each ornament lists a child's age (from infant to 17 years), size and wish list -- such as clothing, books, race cars, shoes and dolls.

Those interested in plucking an ornament off of the tree should return unwrapped gifts to the Student Affairs Office by Friday, Dec. 2. The Holiday Helper Project will also accept donations of wrapping paper as well as generic gifts, which will be given to area organizations such as the Lowndes County Child Advocacy Center and Project Light.

"For the last six years, this project has been about providing hope to hundreds of special children in our area," Counseling Center Assistant Director Leah McMillan said. "Every year we strive to make the holidays brighter for local children and adolescents. Giving back is part of VSU."

On Monday, Nov. 21, and Tuesday, Nov. 29, from 12 to 2 p.m., Holiday Helper volunteers will stand on the second floor of the Student Union inviting students to participate in the project. Students who select a wish list ornament will receive free holiday cookies.

For questions about this outreach program, call Monique Byrd, Office of Volunteer Services coordinator, at (229) 333-5941 or e-mail her at volunteer@valdosta.edu. McMillan may also be reached via e-mail at lcmcmill@valdosta.edu or phone at (229) 333-5940.
Newsroom
Office of Communications Powell Hall West, Suite 1120
Mailing Address
1500 N. Patterson St.
Valdosta, GA 31698
General VSU Information
Office of Communications