5th Annual Mathematical Field of Dreams Conference
November 17, 2011
11-225
Sara Lynn McCall Graduate Assistant, Office of Communications
5th Annual Mathematical Field of Dreams Conference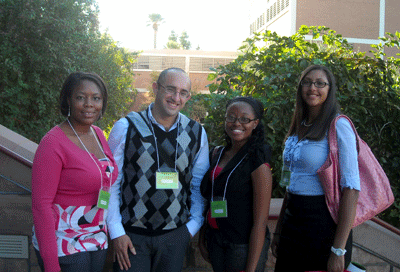 VALDOSTA -- The National Alliance for Doctoral Studies in the Mathematical Sciences organized the 5th Annual Mathematical Field of Dreams Conference on Oct. 14-16, at Arizona State University in Tempe, AZ.

Tiffany McKormick, Alesha Logan and Komeisha Jackson, three VSU mathematics majors, attended this conference with Dr. Jose A. Velez of the Department of Mathematics & Computer Science. The conference brought together faculty in the mathematical sciences along with students who are from backgrounds that are underrepresented in those fields.

The group had the opportunity to interact with other students and successful faculty from backgrounds such as Puerto Rican, Native American, Chicano and African American. They also had the opportunity to get information, advice and motivation for applying to graduate programs in mathematics in several research institutions that provide financial support.

For more information about the Alliance and their programs for minorities, please contact Velez at javelezmarulanda@valdosta.edu or visit www.mathalliance.org/index.asp.
Newsroom
Office of Communications Powell Hall West, Suite 1120
Mailing Address
1500 N. Patterson St.
Valdosta, GA 31698
General VSU Information
Office of Communications