VSU Students Recognized for Innovative Program to Address SocialIssues
VSU Students Recognized for Innovative Program to Address SocialIssues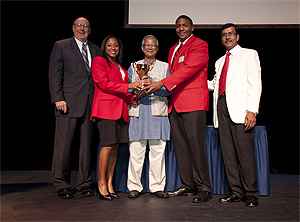 VALDOSTA-- Valdosta State University students placed fourth in a social business plan competition at the Georgia Social Business and Microcredit Forum, on Oct. 17. The competition was part of the University System of Georgia's (USG) Social Business and Microcredit Forum held at the Georgia Tech Ferst Center, Atlanta, Ga.

The competition, which included teams from 35 Georgia colleges and universities, required students to identify a "social problem" within their community or campus, and then create a plan to help solve the problem.

The VSU team presented Cleansweep, a for-profit business that offers professional cleaning services to generate funds to support LAMP (Lowndes Associated Ministries to People). Cleansweep will target residential, commercial, and construction industry clients, beginning with the residential market.

"Our students understand the importance of giving back to the community and they have the self-confidence to know that they can make a meaningful impact on other people's lives," said Dean of the Langdale College of Business Administration Wayne Plumly. "The business plan was selected as one of the best because of its simplicity and sustainability."

LAMP provides long-term shelter to homeless individuals and families, as well as emergency assistance for food, clothing, and utilities.

The projected was presented by Kia Powell and Sean Branch, additional team members included Damon Nunn, Leslie Frye, Ariel Powell, Sharde Bradham, Andrew Hall, Arlandus Moseley, Morgan Tannenbaum, Courtney Sumpter, Wes Collins, Anthony Howard, Kelsey Weghorst, Kyler Dessau and Rick Young.

"I am extremely proud of the VSU students and faculty who developed a plan that was both insightful and responsive to the needs of our community," said Interim President Louis H. Levy. "It is this type of project that offers our students the opportunity to address societal issues; and more importantly, identify a workable solution that makes a positive impact in the lives of people and this community."

For more information about Cleansweep, contact Heath Strickland, Executive Director of LAMP, at 229-245-7157, ext. 201.




Newsroom
Office of Communications Powell Hall West, Suite 1120
Mailing Address
1500 N. Patterson St.
Valdosta, GA 31698
General VSU Information
Office of Communications