Childhood Memories Take Center Stage in Ross Rosenberg Collection
October 21, 2011
11-192
Jessica Pope
Communications and Media Relations Coordinator
Childhood Memories Take Center Stage in Ross Rosenberg Collection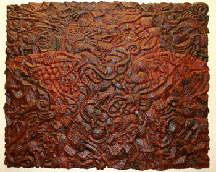 VALDOSTA -- Born in Syracuse, N.Y., in 1941, Ross Rosenberg has said that most of the images in his collection at Valdosta State University's Odum Library are based on early childhood memories. The artist donated several pieces to the university roughly two to three years ago; others were purchased when he participated in a campus gallery exhibit.

"The rounded chair, for example, comes from a memory of being in a dark living room at night," he noted, describing the large paintings of chairs, houses, walls, and trees that hang on the walls of the library's second floor, north side. "There is a dim light coming from down a long hall. I hear someone in the hall, and I climb up onto the chair and hide between the arms on the seat."

"I am drawn to commonplace subjects, such as chairs and houses, because they are comfortingly familiar, but at the same time, they allow me to express feelings of mystery and foreboding," he added. "It is the ambiguity that involves me."

VSU's Ross Rosenberg Collection features 15 very big paintings and drawings, 15 very tiny drawings, and two sculptures. All of his works are studies in texture, from fine graphite to thick oil stick, according to Deborah S. Davis, certified archivist, director of VSU Archives and Special Collections, and chairwoman of the Library Art Committee. They all deal with childhood memories and the intersection between the memory and the unconscious.

"The paintings of this rounded chair are seen from a child's eye level, and they put the adult in the same size relationship to the chair in the painting that a 2-year-old has to a real one," Rosenberg noted. "As this series developed, I began to focus more and more on discovering ways to create texture, so some of them are as much about how they were made as why they were made."

Regarding his chair sculptures, Rosenberg explained, "When small children sit in an overstuffed chair, the experience is like that of being held by an adult. The seat is like a lap; the child leans back against the chair and is held by the chair's arms. The chair sculptures were created with the intention of emphasizing this relationship between the chair and the human body."

Davis said Rosenberg's tiny drawings are collectively known as the Dream Series, created between January 1992 and March 1993. She said that they were a "happy accident," as the artist was working on a small-scale sketch of a larger work when he noticed what looked like eyes staring back at him. Using graphite, he drew what he saw there, creating faces, animals, faces turning into animals.

Rosenberg said that whenever he tried to make the process thoughtful, and perhaps fill in a blank spot, the drawing failed. This series has been described as an exercise in stream-of-consciousness drawing and texture, Davis noted.

The Ross Rosenberg Collection is one of two full collections that helped facilitate Art in Odum, an initiative that resulted in the library becoming a destination promoting education through the unexpected. The other is the Lamar Dodd Collection of 20 paintings and prints from a variety of significant 20th century and a few 19th century artists. Also hanging inside the Odum Library is Amalia Amaki's "For the Love of Books," created in memory of William H. Mobley IV, who supported the library through the donation of books over the years, and four pieces from the Charles and Jeannette Kessler Collection of East Asian Art.

On Friday, Oct. 28, the Odum Library will officially introduce the VSU and South Georgia communities to Art in Odum. From 2 p.m. to 4 p.m., visitors can view the various exhibits, talk to some of the artists, and learn more about the future of this ongoing project. Refreshments will be served.

When asked why people should stop by Odum Library and take a look at the Ross Rosenberg Collection, Davis said, "Because it's fun. The [Ross] Rosenberg collection is a study. The same images, repeated in different sizes and different media, are a very different viewing experience than the work of a group of artists, such as is found in the Lamar Dodd Collection, on the first floor. Here you see one artist exploring ideas from childhood that are both comforting and menacing. Because of their size and the repetition, these paintings surround the viewer. They seem to have become part of their environment and play off our big chairs and the other parts of the second floor."

Rosenberg grew up in Rochester, N.Y., and attended the University of Michigan, graduating with degrees in English literature and art history while also studying drawing. Since then, he has lived and worked in New York City and studied drawing, painting, and sculpture at Parsons, drawing and printmaking at the School of Visual Arts, and papermaking at Dieu Donné.

Rosenberg's work has been displayed in the past at a VSU Fine Arts Gallery show, "Works on Paper," and several of his smaller creations were purchased at that time, Davis said.

For more information about the Art in Odum initiative, contact Deborah S. Davis, certified archivist, director of VSU Archives and Special Collections, and chairwoman of the Library Art Committee, at (229) 259-7756 or dsdavis@valdosta.edu, or visit www.valdosta.edu/news/releases/odumart.101011.

NOTE: The Office of Communications plans to release additional information about the Art in Odum initiative in the coming days. For more information on the Lamar Dodd Collection, visit www.valdosta.edu/news/releases/doddart.101411.
Newsroom
Office of Communications Powell Hall West, Suite 1120
Mailing Address
1500 N. Patterson St.
Valdosta, GA 31698
General VSU Information
Office of Communications