Reception Honors New Online Undergraduate Research Journal
Reception Honors New Online Undergraduate Research Journal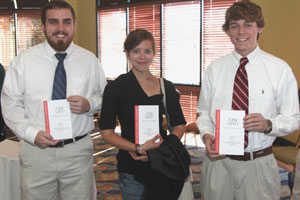 VALDOSTA -- A reception was held to celebrate the success of Valdosta State University's new online scholarly research journal, Omnino, Thursday, Oct. 20 in the University Center Executive Dining Room.

"This journal is evidence of Valdosta State University's advancement in undergraduate research," said Interim President Louis Levy.

Omnino is a compilation of research from all disciplines of academia, composed by undergraduate students and peer reviewed by faculty members. The purpose of the journal is to provide students with an opportunity to present their research to the student body and community.

The premiere issue of Omnino included a wide array of research in the fields of political science, English and history. The second issue, scheduled for release in mid-April 2012, will include other disciplines such as art history, psychology and criminal justice.

"Thus far, the reception of the journal has been excellent," said Amanda Bissonnette, editor-in-chief of Omnino. "In the first week of releasing the first edition of the journal on issuu.com, we received over 150 views. We expect that our next edition will receive the same interest and praise, if not more."

Bissonnette added that Dr. Patricia Miller and Dr. Nathan Elliott, both professors from the Department of English, played a key role in the creation of the publication. Miller drafted the proposal for the project, and Elliott taught a course that trained the Omnino staff on how to organize an academic journal.

"This is the first semester that we have an editor-in-chief and co-editors working to compile an issue independent of the work in the classroom," said Bissonnette. "We are currently recruiting new editorial staff members for our spring class, ENGL 4900--Editing for Publications."

The word, "Omnino" means "altogether" in Latin. The journal is overseen by the undergraduate research council. The journal can be viewed online at http://issuu.com/vsuenglish/docs/omnino_book_with_correct_cover_layout_1 . For more information about Omnino and guidelines for submissions, visit htttp://www.valdosta.edu/cas/cur/Omnino/index.shtml .
Newsroom
Office of Communications Powell Hall West, Suite 1120
Mailing Address
1500 N. Patterson St.
Valdosta, GA 31698
General VSU Information
Office of Communications