Sociology Class Holds Food and Clothing Drive for Migrant FarmWorker Clinic
October 13, 2011
11-181
Sara Lynn McCall Graduate Assistant, Office of Communications
Sociology Class Holds Food and Clothing Drive for Migrant FarmWorker Clinic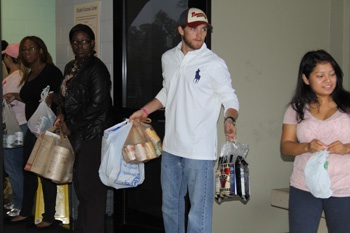 VALDOSTA -- For several years, VSU's Women's and Gender studies program has held a yearlong food and clothing drive to benefit the migrant farm worker population in Echols County. When Dr. Tom Hochschild found out about the initiative, his class didn't waste any time.

"After receiving an email from Dr. Woodard-Meyers stating that migrant farm workers in this area are in need, my students sprang into action to lend a helping hand," said Hochschild, who specializes in urban sociology, community sociology and social psychology. "Despite the fact that many of these students are struggling to make ends meet themselves, they've dug into their own pockets, and reached out to family members, friends, and church members to finds ways to help."

On Tuesday, Oct. 11, Hochschild's Self and Community Service class loaded the Migrant Farm Worker Clinic van with food, clothing and other necessities. The collected items will be essential for the migrant farm worker population in the upcoming winter months.

"Through community service, my students are applying sociological theories and concepts from class to real world phenomena. They are learning how direct service, indirect service and advocacy can be used to effect positive social change," Hochschild said. "I'm very proud of these students for taking the lead in helping the Migrant Farm Worker Clinic."

Food drive totals:
223 cans of vegetables
72 pounds of rice
50 pounds of dried beans
36 boxes of pasta
42 pounds of flour
38 pounds of sugar
24 boxes of cereal
19 cans of soup
3 gallons of cooking oil
13 coats and sweaters
1 large space heater
1 bag of toiletries

For more information about the food drive, contact Hochschild at trhochschild@valdosta.edu or Meyers at tmeyers@valdosta.edu.
Newsroom
Office of Communications Powell Hall West, Suite 1120
Mailing Address
1500 N. Patterson St.
Valdosta, GA 31698
General VSU Information
Office of Communications