VSU is Counting on Faculty and Staff to Make a Difference
VSU is Counting on Faculty and Staff to Make a Difference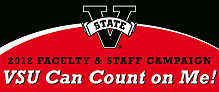 VALDOSTA--Valdosta State University's Annual Giving office kicked off the 2012 Faculty and Staff Campaign on Monday, Oct. 17. The campaign's theme "VSU Can Count on Me" emphasizes the positive message that the future of the university depends on faculty and staff members who choose to make a difference.

"The annual faculty and staff campaign is an opportunity for VSU employees to help enhance academic programs, scholarships, athletics, the arts, and research," said Karen Johnson, director of annual giving. "The campaign provides a chance for university employees to help make Valdosta State a better university through their financial contributions."

All of VSU fulltime employees will receive a packet of information that outlines how they can direct financial gifts to the college, department or program of their choice through a variety of payment options, including payroll deduction. Employees may also visit the campaign's website at http://www.valdosta.edu/fscampaign/ .

"We want faculty and staff to know that their gift, no matter the size, will make a difference," Johnson said. "There are many of our employees who have given consistently over the years, and those contributions add up."

During this year's fall convocation address, Interim President Louis H. Levy recognized Dr. Lamar Pearson, a graduate of Valdosta State and retired history professor, who has given more than $100,000 to VSU during the past 50 years.

"Dr. Pearson is a perfect example of an employee who has made giving to the university a part of his life," Johnson said. "He never set out to give $100,000, but over the years, he continually made financial gifts to the university."

With the official start of the 2012 annual campaign, University of Advancement is announcing new giving levels.

"The new levels were established so that everyone who gives financially to the university will be recognized whether it is a one-time gift or a lifetime of giving," Johnson said. "We want all of our generous donors to know that their financial contribution makes a difference."

University Giving Levels:
The Pine Society recognizes donors who contribute up to $1,000 annually. The society is appropriately named for the "stately pines" that have been part of Valdosta State's landscape for more than 100 years.

The West Society recognizes donors who contribute $1,000 to $4,999 annually. The West Society is named in honor of Colonel William Stanley West, who served as president of the Georgia Senate at the time South Georgia State Normal College (now Valdosta State University) was created in 1906. His leadership was instrumental in the formation of the university.

The Rae and Lillian Steele Society will honor donors who support the university with annual gifts of $5,000 to $24,999. The Steele's were generous benefactors of the university and their $8 million bequest is the largest in VSU's history.

The President's Circle acknowledges donors who make an annual contribution of $25,000 or more.

The Gertude Odum Society recognizes Valdosta State's current faculty and staff, as well as retirees for lifetime giving of more $10,000. The Odum Society is named in honor of Gertude Odum, a professor of English at Valdosta State for many years, who bequeathed $1 million to the institution in her will.

The Pearson Society recognizes lifetime giving of more than $100,000, and is named in honor of Dr. F. Lamar Pearson, a Valdosta State alumnus and history professor. Pearson's gifts to his alma mater have totaled more than $100,000.

The Order of the Dome honors faculty, staff, alumni and friends of the university who have made provisions for a gift to Valdosta State within their estate plans. These gifts include bequests, charitable trusts and annuities, and life insurance.



Newsroom
Office of Communications Powell Hall West, Suite 1120
Mailing Address
1500 N. Patterson St.
Valdosta, GA 31698
General VSU Information
Office of Communications