Lamar Dodd Collection Highlights Various Styles, Schools of Art
October 14, 2011
11-184
Jessica Pope
Communications and Media Relations Coordinator
Lamar Dodd Collection Highlights Various Styles, Schools of Art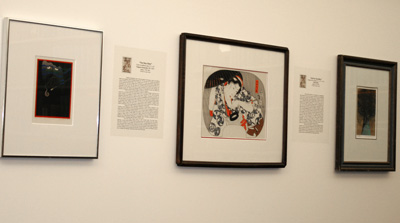 VALDOSTA --Lamar Dodd was head of the University of Georgia's Art Department when he donated seven pieces of art in the late 1970s to what was then known as Valdosta State College. The donation was the result of conversations he reportedly had with his friend, Sidney Walter Martin, who served as president of VSC from 1966 to 1978.

With help from his daughter, Mary Irene Dodd, who was an art professor at VSC (and Valdosta State University as it became known in 1993) from 1967 to 2002, Dodd went on to donate the core of his collection to the campus. He believed that "books and slides are important, but when it comes to art, there is nothing to replace the original. I think students should be exposed to the best."

Today, the Lamar Dodd Collection is housed on the first floor, north side, of VSU's Odum Library and features 20 paintings and prints from a variety of significant 20th century and a few 19th century artists, said Deborah S. Davis, certified archivist, director of VSU Archives and Special Collections, and chairwoman of the Library Art Committee.

"This is an interconnected collection featuring the works of artists who knew each other and sometimes worked together," according to an Odum Library Blog post. "It is a very valuable collection and contains examples of various schools and styles from the 1920s through the 1970s."

The Lamar Dodd Collection features works by artists from Great Britain, France, Japan, Germany, and, of course, the United States. Mary Irene Dodd painted two pieces in the collection, a watercolor titled "Watery Surf, Tenants Harbor, Maine" and an oil and gold leaf titled "Sunset Cove." She donated two of her father's oil paintings and one of his watercolor paintings to the university collection.

The Lamar Dodd Collection is one of two full collections that helped facilitate Art in Odum, an initiative that resulted in the library becoming a destination promoting education through the unexpected. The other is the Ross Rosenberg Collection of 15 very big paintings and drawings, 15 very tiny drawings, and two sculptures. Also hanging inside the Odum Library is Amalia Amaki's "For the Love of Books," created in memory of William H. Mobley IV, who supported the library through the donation of books over the years, and four pieces from the Charles and Jeannette Kessler Collection of East Asian Art.

On Friday, Oct. 28, the Odum Library will officially introduce the VSU and South Georgia communities to Art in Odum. From 2 p.m. to 4 p.m., visitors can view the various exhibits, talk to some of the artists, and learn more about the future of this ongoing project. Refreshments will be served.

"The Dodd Collection is really amazing," said Davis. "… Most of the works are from artists with a strong connection to Georgia, either they lived and worked in the state for their careers or they became visiting professors at UGA … This is the most valuable collection we own, and the works are really impressive. Our three by Lamar Dodd alone are very special, from the signature piece 'Still Life With Magnolias,' painted around the time he came to the University of Georgia, to the highly abstract 'Grand Canal, Reds.' We are very lucky to be able to permanently display artists of this caliber."

Born in 1909 in Fairburn, Lamar Dodd has been described as the most influential Georgia artist of his generation. He began his artistic training at LaGrange College at the age of 12. It was a women-only campus at the time, but he struck a deal with the dean, art lessons in exchange for coal shoveling and other chores. He studied at the Georgia Institute of Technology before joining the Art Students League of New York. In 1937, he was appointed to a faculty position at UGA. It was a national effort to get more working artists into universities, and he remained there until he retired as the head of the Art Department in 1976. Memorializing his many accomplishments, UGA later named the department the Lamar Dodd School of Art.

Dodd enjoyed painting scenes of his beloved Georgia, but as he traveled, his subject matter occasionally changed. He studied abroad and was even appointed a cultural emissary for the U.S. State Department. In 1963, he was named the official artist on the Mercury 9 project by NASA and also served as artist for many other launchings, including Apollo 9. He was inspired by everything, including his wife's open-heart surgery in 1978. He died in 1996.

For more information about the Art in Odum initiative, contact Deborah S. Davis, certified archivist, director of VSU Archives and Special Collections, and chairwoman of the Library Art Committee, at (229) 259-7756 or dsdavis@valdosta.edu, or visit www.valdosta.edu/news/releases/odumart.101011.

NOTE: The Office of Communications plans to release additional information about the remaining collections in the coming days.
Newsroom
Office of Communications Powell Hall West, Suite 1120
Mailing Address
1500 N. Patterson St.
Valdosta, GA 31698
General VSU Information
Office of Communications