Dinner Commemorates Local Humanitarian & Entrepreneur
Dinner Commemorates Local Humanitarian & Entrepreneur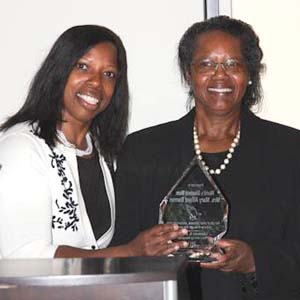 VALDOSTA -- A commemorative dinner was held for the official endowment of the Claydon H. Barron Memorial Scholarship at Valdosta State University Saturday, July 9 in the VSU Student Union Ballroom.

During the dinner, members of the VSU African American Studies (AFAM) scholarship selection committee and Valdosta High School (VHS) scholarship committee were presented plaques of appreciation. Former VSU and VHS recipients of the scholarship were also acknowledged.

Established by Mary Barron, wife of the late Claydon H. Barron, and Lawanna Barron, daughter of Claydon Barron, the scholarship is awarded once annually to a sophomore, junior or first semester senior AFAM minor who has demonstrated academic excellence at VSU. The scholarship was established for Valdosta High School graduating seniors in 2002 and established at VSU in 2003. There have been nine recipients at VHS and 18 recipients at VSU since its establishment.

The scholarship honors the memory of Claydon H. Barron, a humanitarian, and business entrepreneur. A native of Valdosta, Barron was the first African American appointed to the Valdosta Board of Education, on which he served ten years. He also founded the Azalea City Bail Bonding Company, the Azalea City Limousine Service and the Barron's Insurance Agency. Barron was affiliated with the Smooth Ashlar Grand Lodge York Rite Masons, and the National Grand Lodge bestowed upon him the 33rd Degree Masonry. The purpose of the scholarship is to encourage the tradition of respectable work ethic, perseverance and academic excellence.

"He always had encouraging words for his clients and customers," said Mary Barron. "He would counsel them to respect themselves, to keep a job and to take care of their responsibilities."

Reared by his mother and maternal grandmother on the corner of South Street and Troup Street in Valdosta, Claydon Barron's family did not have the financial means for him to attend college, his wife explained. However, he always encouraged his daughter, Lawanna, as well as other children and young adults, to remain focused and committed to their educational pursuits.

The late Barron's wife added that he was a long-time financial supporter for organized sports, sponsoring pee-wee and t-bat teams through Valdosta-Lowndes Parks and Recreation.

Several classmates, church members, colleagues and neighbors from various states joined the Barron family in honoring Claydon Barron's legacy during the commemorative dinner.

For more information about the Claydon H. Barron Memorial Scholarship, contact Dr. Shirley H. Hardin, director of African American Studies, at (229) 249-4843.
Newsroom
Office of Communications Powell Hall West, Suite 1120
Mailing Address
1500 N. Patterson St.
Valdosta, GA 31698
General VSU Information
Office of Communications