Yale-bound Graduate Wins International Trombone Festival
Yale-bound Graduate Wins International Trombone Festival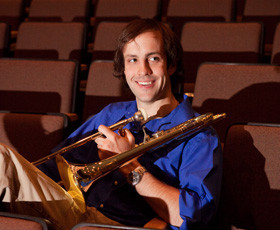 VALDOSTA -- Alumnus Timothy Hilgert won the Robert Marsteller Trombone Competition during the world's largest International Trombone Festival June 22-25 in Nashville, Tenn. The middle of five children said he doesn't compete for acclaim. Music is his favorite language, and playing two days before his wedding helped him maintain perspective.

"There's a feeling, like an inherent emotion, that happens when you play, and not even all the time; but when it does happen, it's like nothing matters except the music," said Hilgert, who will attend Yale School of Music in the fall. "I felt the calmest I ever have at a competition, knowing that win or lose, I was going to marry the love of my life, Nikki, two days later. I wasn't worried about winning the competition or what everyone would think about my playing, and that seemed to help."

The Valdosta native competed against hundreds of aspiring musicians from more than 66 countries to win a trombone crafted by French manufacturer Courtois Trombone. Hilgert will travel to the company's North American base in Jacksonville, Fla., to generate custom schematics to send to Paris, where the craftsmen will build a one-of-a-kind instrument with Hilgert's name engraved on the slide.

"I think that my musicality is what ultimately set me apart from the other competitors," said Hilgert, who played the first movement of Johan de Meij's "T-bone Concerto" and the final two movements of Jacques Casterede's "Sonatine." "It wasn't a flawless performance or anything, but I felt that the overall phrasing and direction really came through."

The former VSU Trombone Ensemble president is no stranger to international competition. As a Valdosta High School student, he won the Eastern Trombone Workshop and the Music Teachers National Association Brass Competition. In 2010, the International Trombone Festival named Hilgert a finalist in the solo alto contest. But Hilgert, who started playing in fifth grade, competes because "music moves people in spite of differences and can speak in ways no other language can." The prestige is an added bonus.

"The next two years will be a great time to really focus on developing my skills, as I pursue a Master in Music Performance. After that, I would like to win an orchestral job or continue studies and earn my doctorate," said Hilgert, who honed his skills in the Valdosta Symphony and Peach State Summer Theatre orchestras. "I wouldn't have any of the opportunities I have had without the love and support of my parents. I didn't realize when I was younger how much they've done for me, but it's become more and more apparent as I've gotten older."

Hilgert also credits the direction and support of his trombone instructors for his continued success. Without them, Hilgert said, he would not have developed the confidence or work ethic needed to advance in competitive performance. Dr. Doug Farwell, VSU professor of trombone, showed Hilgert to treat the instrument as an extension of himself. Maila Springfield, the university's piano accompanist and instructor, continues to push Hilgert to explore his range and effectively collaborate with other musicians.

See Hilgert and other International Trombone Festival winners at www.ita-web.org/competitions/2011winners.cfm.
Newsroom
Office of Communications Powell Hall West, Suite 1120
Mailing Address
1500 N. Patterson St.
Valdosta, GA 31698
General VSU Information
Office of Communications