Interior Design Professor Earns Best in Show
Interior Design Professor Earns Best in Show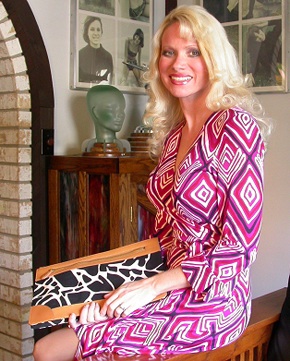 Dr. Selena Nawrocki grew up in a home built by artistic parents. Handcrafted furniture and stained glass windows framed her view of the world and continue to inspire her to push the boundaries of dimensional composition. The interior design professor's works have garnered dozens of awards at more than 100 international, national and regional art competitions.

"I utilize interior design computer software to create collage compositions that feature stairways as a major reoccurring focal point," said Nawrocki, who has taught at VSU since 2001. "My mixed media art is printed on a transparent field which, when framed, consists of multi-paneled straight and curved exterior silhouettes."

This past spring, Nawrocki's won Best of Show during the San Diego Art Institute/Museum of the Living Artist's 51st International Exhibition. "Rotary Steps" beat out nearly 700 entries in the competition designed to support the visual arts through exhibition, education and outreach. Her mixed media composition "Facets" garnered First Place - Best in Show at the Art and Design Society's 19th Southeast Regional Juried Fine Arts Exhibition at the Northwest Florida State College in Niceville.

"'Facets' was inspired by a diamond ring and consists of a single inverted triangle as the major shape supported by six leaves," said Nawrocki, who earned a doctorate from Mississippi State University. "With five angular triangles and two curvilinear shapes, the work possesses both masculine and feminine qualities. In Eastern cultures, odd numbers are considered masculine while even numbers are though of as feminine."

As a result of the award, the gallery will showcase her work during a 2012 regional exhibition. Nawrocki said she pushes herself to create new art and enter competitions so that she can continue to grow and stay current with the latest artistic patterns and methods. Her success, Nawrocki said, is passed down to and exemplified through her students.

Read more about the VSU Interior Design program at www.valdosta.edu/interiordesign/ .
Newsroom
Office of Communications Powell Hall West, Suite 1120
Mailing Address
1500 N. Patterson St.
Valdosta, GA 31698
General VSU Information
Office of Communications