History Professor Studies Rare Regional Religion
History Professor Studies Rare Regional Religion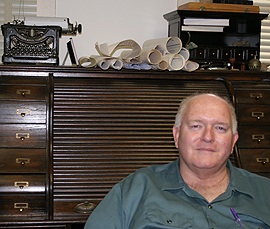 VALDOSTA -- Most people have never heard of Two-Seed-in-the-Spirit Predestinarian Baptists, but History Professor John Crowley has dedicated the past 33-years of his career to the study of the sect's doctrine, practiced mostly in Northern Alabama and Texas.

The Hahira native, who has "spent his entire life down South and has no intentions of leaving," is working on a book about the scarce Baptist sub-group as a follow-up to his work, "Primitive Baptists of the Wiregrass South 1850 to present," which was published in 1988. Crowley explains the lull between books on the tight-lipped community and his inherent drive to leave no reference unturned. It took years, Crowley said, to gain the trust and travel to meet with various church members and leaders in Indiana, Texas and Tennessee.

"My mother, when she was living, always told me, 'The trouble with you is that you enjoy researching, so you research forever and never reach the point where you think you've had enough,' and she is quite correct," said Crowley, who classifies his main audience as scholars of early American and frontier religion. "I am always thinking of some source I overlooked that I can check out."

An Anti-Mission Perspective

Last documented in 2003, the Two-Seed-in-the-Spirit Predestinarian Baptists claimed roughly four churches, with a total of about 80 members, in the Southern United States; the handful of churches in Lowndes County disbanded in the 1930s, he said. Crowley grew interested in the denomination during his master's thesis research as a student at Valdosta State, where he earned degrees in education and history.

"Its theology is fascinating, even though the denomination itself is virtually extinct," said Crowley, who worked for years to gain access to church doctrine. "Once church members decided that I was serious about finding out about them, they gave me tapes of sermons and copied church records for me. They were very helpful in answering all my questions."

The Two Seeders are part of a larger sub-group of "anti-mission" Baptists, who believe that people are predestined for the "good seed" of God or for the "bad seed" of Satan. Therefore, Two Seeders believe that missions to encourage people to live lives for God are not only unbiblical but also useless.

A Lifelong Passion

Crowley said he has been drawn to history since childhood. Without a television until the age of seven, Crowley listened to his mother's recollections of their ancestors. The former elementary school teacher said his family told stories with such clarity and frequency that he began to believe he had actually lived some of the tales.

"My parents were unusually old when I was born. My mother was 46 and my father was 68, said Crowley, who has taught at VSU for the past 16 years. "So when they told me things my grandparents had done, they were talking about the 1800s. That just made the past come alive for me."

Teaching at VSU has enabled Crowley to continue to explore the region's religious history and educate students about various aspects of religion in American, particularly in the South. He celebrates religious patterns and their influence on Southern culture and delves into religious development among various ethnic groups in the region. E-mail Crowley at jcrowley@valdosta.edu for more information about Two Seeders or other religious practices in the South.
Newsroom
Office of Communications Powell Hall West, Suite 1120
Mailing Address
1500 N. Patterson St.
Valdosta, GA 31698
General VSU Information
Office of Communications