Assistant Director of Residential Education to Represent the State
May 2, 2011
11-91
Lauren M. Oliva
Assistant Director of Residential Education to Represent the State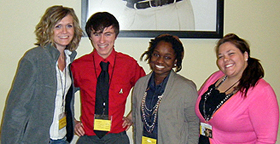 VALDOSTA -- Valdosta State University Assistant Director of Residential Education Sarah VanKuiken was elected State Representative of the Southeastern Association of Housing Officers (SEAHO) -- an organization that represents university housing officers in 10 Southeastern states.

VanKuiken, who has worked in residence life for the past 10 years, will attend conferences, vote to establish housing practices and submit state reports to the association with the overall goal of building relationships and sharing ideas with other institutional professionals to improve practices throughout the region.

"I hope to keep the members of Georgia well-informed and represent the interests of our state at the regional level," said VanKuiken, who trains resident assistants through various workshops. "We are fortunate to be a part of a region with talented and dedicated professionals. I look forward to sharing the great things we are accomplishing in Georgia with the rest of the region as well as bringing information and ideas back to our state members."

The Michigan native came to VSU in fall 2009 to work with Living Learning Communities and the Blazer Residence Hall Association. Her vision is to create a strong sense of community among students, one that will continue to foster relationships after graduation. VanKuiken said training resident assistants in leadership and working with the Residence Housing Association to provide events and opportunities for leadership and supportive academic environments helps students establish these lasting relationships with the university and each other.

"I really appreciate the level of campus pride I see in the students I work with, and their desire to make VSU a positive place for other students to live and learn," said VanKuiken, who earned a Master of Education from the University of South Florida in Tampa. "I also love the diversity of the student body and the unique experiences each students brings to the classroom and residence hall."

VanKuiken began her career in residence life as a resident assistant at Calvin College in Grand Rapids, Mich. She then served as a graduate hall director at the University of South Florida and an assistant director for residence life at Elon University in North Carolina.

In her spare time, the outdoor enthusiast enjoys playing volleyball, indulging in the creation of decadent desserts and the company of a good book. She also runs the occasional marathon.
Newsroom
Office of Communications Powell Hall West, Suite 1120
Mailing Address
1500 N. Patterson St.
Valdosta, GA 31698
General VSU Information
Office of Communications