Atlanta Hall of Fame to Honor Tuggle
Atlanta Hall of Fame to Honor Tuggle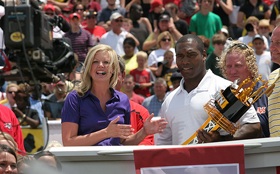 VALDOSTA -- The Atlanta Sports Hall of Fame will induct former Atlanta Falcons Linebacker Jessie Tuggle, '92, during a ceremony at 7 p.m. on Saturday, June 25, at the Roswell Cultural Arts Center, 950 Forrest Street, Roswell, Georgia.

The Valdosta State community is invited to celebrate in this honorary moment for one of its top athletic performers and alumni contributors. A four-year Blazer letterman, Tuggle went on to play 14 seasons for the Atlanta Falcons with a recorded 1,640 tackles, 21 sacks, and six interceptions, which he returned for 106 yards and a touchdown. "The Hammer" also forced and recovered 10 fumbles, returning them for 155 yards and an NFL record 5 touchdowns.

The VSU Hall of Fame inducted Tuggle into its lineup in 1997 and later opened the Jessie Tuggle Strength and Fitness Complex, retiring his No. 88 jersey. Tuggle -- whose daughter, Jessica, finished up her first season of Blazer Tennis this spring -- continues to give back to the university in meaningful ways, from speaking engagements to philanthropic endeavors.

Those interested in attending the Atlanta induction ceremony may call Larry Winter at 770-343-9012 or e-mail him at atlantasportshalloffame@yahoo.com. A reception, raffle, and silent auction will be held prior to the induction ceremony, at which all inductees and several past Hall of Famers will be present. Ticket holders will receive a commemorative poster of the Class of 2011 and are invited to a post ceremony dessert reception.

For more information, go to the Atlanta Sports Hall of Fame at www.atlantasportshalloffame.org/.
Newsroom
Office of Communications Powell Hall West, Suite 1120
Mailing Address
1500 N. Patterson St.
Valdosta, GA 31698
General VSU Information
Office of Communications