SIFE Heads to Nationals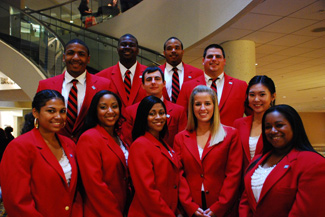 VALDOSTA -- Members of Valdosta State University's Students in Free Enterprise (SIFE) team are headed to the 2011 SIFE USA National Exposition May 10-12 in Minneapolis, Minn. VSU's SIFE presentation team has competed at nationals every year of the organization's 17-year history.

The 2011 presentation team includes Yun Jin Jang, Cameron Hoopes, Leslie Frye, Andre Carmack, Ammie Leonards, Kai Powell, alternates Ariel Powell and Sean Branch, and Michael Oppel, who serves as the audiovisual technician.

As part of the competition, the SIFE team will give a 24-minute presentation that highlights the accomplishments from more than 25 projects and approximately 9,000 service-learning hours completed by SIFE members during the past year.

The highlight of this year's presentation is the opening of the SIFE Skills Success Center in late February. The 1,700-square-foot dynamic learning center, located at Ora Lee West Homes in Valdosta, allows SIFE members to address the social, economic and educational needs of children and families living in the housing area.

The center was constructed through generous community-wide support from area businesses, including: First Federal Savings and Loan, Pinnacle Prime, Southeastern Federal Credit Union, McCall & Associates, Ace Electric, Georgia Power, and the Valdosta Housing Authority. Regional law firm Coleman Talley donated legal services.

The community is invited to view this year's presentation at 8:30 a.m. on April 25 in Pound Hall Auditorium at the Rea & Lillian Steele North Campus.

For more information, contact Hilary Gibbs, director of development for the Langdale College of Business Administration and SIFE adviser, at 229-259-5503.


Newsroom
Office of Communications Powell Hall West, Suite 1120
Mailing Address
1500 N. Patterson St.
Valdosta, GA 31698
General VSU Information
Office of Communications