Alumnus' Future in the Click of Your Mouse
Alumnus' Future in the Click of Your Mouse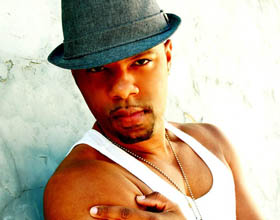 VALDOSTA -- If it is true that it takes a village, then Valdosta State University Alumnus Michael Barlow hopes community can also make his dreams come true.

The 27-year-old philosophy and religious studies major is one of 10 finalists in the YOBI.tv online singing competition, YOBISing, which exposes audiences to undiscovered talent. On Sunday evening, the finalists will be cut to five based on audience votes online. Barlow, with his heartfelt sounds of R&B and pop, is excited about the possibility of making an impact on the music world.

"If I had to narrow my life down to one goal, it would be to make a lasting impression on the world through my contributions, whether that be through writing, singing or service," said Barlow, who filmed his entry video throughout downtown Valdosta and on campus. "My mother has been a constant inspiration to me. It is through her influence that I learned to love music, and the sacrifices she has made throughout her life for my sisters and me have been touching as a son. She makes me want to reach beyond what I ever thought possible."

Barlow entered the contest in October, and has endured several cuts to narrow down the competition from the thousands who entered. The well-rounded musician, who plays guitar and saxophone, said he writes songs that reflect his life's hills and valleys. His video "New Stage," which is posted on the YobiSing website, chronicles the excitement and anticipation of transitioning from his current position as director of campus ministry for VSU's branch of The Navigators. His contract with the international, interdenominational Christian ministry ends in May.

"The song embodies this time in my life," said Barlow, who began singing before he could walk. "Life is always about new journeys, leaving the old and taking on new challenges. I hope the next stage in my life involves connecting with people through my music and my writing."

Barlow said he always hoped but never imagined he would make it this far. He entered the competition as an outlet for his music, which he performs at area establishments, including Stage 51. His greatest strength as a musician, Barlow said, is his versatile sound that draws from a variety of influences.

"People have always told me they can tell that I sing with a lot of heart, and that the sound that comes out of me is much richer than they imagined," he said. "I grew up listening to everything, and my music reflects that. I am an old school Stevie Wonder fan and career wise, I definitely admire Justin Timberlake's versatility and adaptability."

The winner of the competition, which will be named after several more rounds during the next few weeks, will receive a trip to the Grammys, and a $12,000 contract to star in an MTV series with Audrina Partridge of "The Hills." The winner's music will also be featured on the show.

To view and vote for Barlow, go to www.yobi.tv/finalists/view/127.
Newsroom
Office of Communications Powell Hall West, Suite 1120
Mailing Address
1500 N. Patterson St.
Valdosta, GA 31698
General VSU Information
Office of Communications