FastTrac Growth Venture Class of 2011 Recognized
FastTrac Growth Venture Class of 2011 Recognized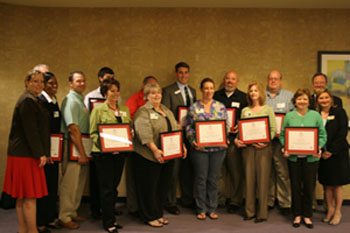 VALDOSTA -- Thirteen business leaders graduated from the Valdosta State University Small Business Development Center's FastTrac Growth Venture Class of 2011 during a ceremony in the University Center Magnolia Room Thursday, March 17.

The ceremony featured Lowndes County Board of Commissioners Chairman Ashley Paulk as its keynote speaker. During his address, Paulk discussed how he began his business, Valdosta Electric, at 20 years old while in debt and eventually grew it into a nationally recognized electric company that generates millions of dollars each year. Paulk expressed the importance of building positive relationships, remaining ethical and assessing failures that may arise with trial and error.

"Businesses are built on reputation," he said. "You get a good reputation by ensuring you that deliver quality service and leave good impressions."

Paulk also warned the graduates about the difficulties of delegating responsibilities as their businesses grow.

Following Paulk's address, the graduates were presented with diplomas for completing of the class. Graduates include: Dr. Charlene Blache (Southern Pediatric Clinic), Jason Parker (Parker Pools), Connie Ledbetter (Blue Grace Logistics), Vicki Hughes (Valdosta/Lowndes County Industrial Authority), Kim Pelkowski (Black Crow Media), Amanda Maxwell (Marketing Communications), Jane Shelton (South Georgia Travel), Doug Swords (Azalea Health Innovations), Tom Kelly (Langdale Honda Kia), Richard Welch (BB&T), Bill Kent (Innovate! Engineering Solutions) and Bruce Sumner (Zant's Flower Shop)

The FastTrac Growth Venture class members attended 10 half-day sessions where they learned to analyze, plan and manage their businesses effectively. They were also responsible for developing or revising their mission statements, marketing plans and business plans during the 40-hour course.

For more information about the FastTrac Growth Venture, contact the VSU SBDC at (229) 245-3738 or visit http://www.georgiasbdc.org/index.aspx?cart=3ce905e3-53eb-4988-8f3e-21bc00c8bc63&page_name=Fasttrac_2 .
Newsroom
Office of Communications Powell Hall West, Suite 1120
Mailing Address
1500 N. Patterson St.
Valdosta, GA 31698
General VSU Information
Office of Communications