Professor Writes of Sniffing Glue and Football Rivalries
Professor Writes of Sniffing Glue and Football Rivalries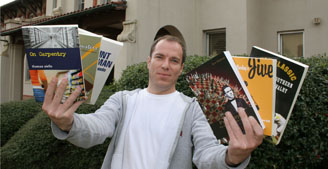 VALDOSTA -- Assistant Professor of History Thomas Aiello has been writing books at an exhaustive pace about everything from sniffing glue to Negro League baseball. The Louisiana native, who began teaching at VSU in August, considers writing his obsession.

Aiello mostly turns research projects -- like the Grambling-Southern football rivalry -- into books for classroom instruction and history buffs. For fun, he pens works of fiction such as his latest novel, "On Carpentry" (2011), a comedic tragedy about a fictional Southern town and its outbreak of pancreatic cancer.

"I generally describe writing history as finding the pieces of a massive jigsaw puzzle and assembling them in a way that people want to see," Aiello said. "Fiction writing is different. Fiction writing is like being faced with a black jigsaw puzzle. It's already assembled, but a picture needs to be drawn on it."

His non-fiction work focuses mainly on African-American cultural and intellectual history in the 20th century; however, he has published about literature, music and philosophy, among other topics. "I usually discover something interesting while doing research for something else, save it, then come back to it and see if it sparks my interest when I have some free time," he said.

"My favorite topics deal with understanding the philosophy undergirding black cultural programs or religious programs or social programs; but as you can tell, such can take a variety of different forms," he said. "I have published papers on everything from Satanists in fiction, to religious justifications for Jim Crow segregation, to the theology of the Weathergirls 1982 hit song 'It's Raining Men.' I have published on the racial consequences of Otto Preminger's film 'Hurry Sundown' and the curious historical linguistic tie of godlessness to communism in the American vernacular."

A Focus on Historical Fiction

Aiello is also working on several book-length projects. He is studying Gordon Malherbe, a marginal magazine fashion writer from the 1920s-40s who eventually fell on hard times and murdered his mother. Aiello is also conducting research on the black press in the South before the Civil Rights movement.

"The work's argument is that the black press, often ignored by historians, created a fundamentally unique way of thinking for the black South that would trace the contours of its special brand of Civil Rights activism and made it fundamentally different from that activism in different parts of the country in 1950," he said.

"The Kings of Casino Park: Black Baseball in the Lost Season of 1932" will debut in August. The work shares the journey of Negro Southern League baseball team, the Monroe Monarchs, as they reach the Negro World Series in 1932 against the Pittsburgh Crawfords. Monroe, La., was a cotton hub known throughout the country as the most racially violent area in the nation. But through the success of this black baseball team, racial confrontation took a backseat to athletic success.

The glue-sniffing epidemic of the 1960s has also made his project list. Aiello came across this somewhat odd topic in a Louisiana black weekly newspaper from the early 1960s. Many historians focus on one topic throughout their entire career, but Aiello said his inner curiosity could never let him settle on one subject. "I set myself on a topic, send the book or article to the publisher, then move on. I am too interested in too many things to stick to such a structured research program," he said.

"I was doing newspaper research on the Grambling-Southern rivalry in a Louisiana black weekly newspaper from the early 1960s, and I ran across an article about a black advocacy group in New Orleans that was pushing for a statewide law to punish glue-sniffing teenagers," he said. "It sparked my curiosity, I printed it, and two years later it became a 12,000-word paper about glue-sniffing legislation throughout the Deep South."

His Latest Works

Aiello's latest works include: "Dan Burley's Jive" (2009), a compendium of two books written by black newspaper columnist Dan Burley who is generally credited with creating "jive" speech; "Paul Morphy: Pride and Sorrow of Chess" (2010), a New Orleans native who is arguably the greatest chess player in history; and "Bayou Classic: The Grambling-Southern Football Rivalry" (2010) is about the Bayou Classic football game between Grambling and Southern.

Most of his works may be found on Amazon.com or Lulu.com. Check the sites often, as the list will surely grow soon. Aiello is preparing to publish his latest novel, "Solemnity," which took him three years to complete because of its structural complexity.
Newsroom
Office of Communications Powell Hall West, Suite 1120
Mailing Address
1500 N. Patterson St.
Valdosta, GA 31698
General VSU Information
Office of Communications