Rotary Club Sponsors International Scholar
Rotary Club Sponsors International Scholar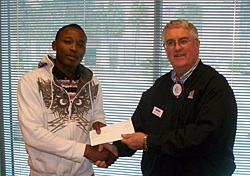 VALDOSTA -- Each year the Rotary Club of Valdosta and Valdosta North Rotary Club sponsor a one-year scholarship for an international student to attend VSU through the Georgia Rotary Student Program (GRSP). In late June, Benjamin Ikaal traveled from a remote village in Kenya to begin studies at Valdosta State.

"Traveling to a new country engenders a string of emotions. For Benjamin Ikaal, this opportunity is a once in a lifetime experience; one the will never forget," said Dr. Suzannah Patterson, Rotarian and professor of communications. "Born in Kericho, Kenya in 1986, Ikaal became very familiar with the peacefulness of his hometown. Bungoma's countryside proved to be a vast difference from the big city lights of Atlanta that came into view as he glared out of the plane's window in late June."

With a semester of studies under his belt, Ikaal has settled into college life. The pre-pharmacy student said he enjoys playing soccer on the front lawn, watching football at Buffalo Wild Wings and studying with friends at the library. The active student said he hopes to stay at VSU to earn a bachelor's degree and then remain in the area to put his education to use in the medical field.

"The experience has really helped me adapt into society socially and economically," said Ikaal, who hopes to complete in a billiard championship tournament on campus in late March. "I have money in my personal account to buy learning materials, but I also have money to buy materials for extra-curricular activities, like track suits for jogging and soccer gear so that I can play with my friends."

In early December, the Roswell Rotary Club named Ikaal the 2010 Barbara M. and Donald L. Thomas Peace Award from among dozens of GRSP candidates. The $1,500 award has aided Ikaal in paying for a number of Rotary events throughout the state that support the program's intent to promote world peace through understanding and friendship.

Since 1946, Rotarians in Georgia have offered scholarships to about 80 international students each year to study at Georgia colleges and universities. Each club sponsors a student, who lives on campus as they learn about various cultures and lifestyles. In June 1992, the Thomas family created a Charitable Remainder Trust of $100,000 to benefit the student program, which various clubs matched. The Thomas's established a second trust to fund their legacy of world peace through global student education opportunities.

To read more about the Georgia Rotary Student Program, go to http://grsp.org/.

Newsroom
Office of Communications Powell Hall West, Suite 1120
Mailing Address
1500 N. Patterson St.
Valdosta, GA 31698
General VSU Information
Office of Communications