Students Share Recipes from Home
Students Share Recipes from Home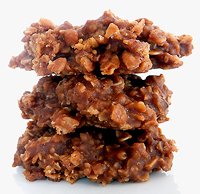 VALDOSTA -- Four Valdosta State University students took home prizes for their submissions to Blazer Dining's student recipe contest, "There's No Taste Like Home." Palms Dining Center featured the recipes on its menu Wednesday, Dec. 1. Student diners voted that day to crown a grand prize winner -- Katie Wagnon, who won $50 in Blazer Bucks for her oatmeal no-bake cookies.

Below are the winning student recipes that Sodexo featured to recognize the dishes that remind them of home.

First-place winner; Katie Wagnon

Oatmeal No-Bake Cookies

Ingredients
2 cups sugar
4 T. cocoa powder
1/2 cup peanut butter
1 t. vanilla extract
1/2 cup milk
3 cups quick-cooking oats

Directions
Combine sugar, milk, cocoa and butter in saucepan and heat to a rolling boil until all dissolves. Remove the pan from heat, and add peanut butter, oats and vanilla; mix well. Spoon onto wax paper and let cool.

Second-place winner; Austin McDonald

Feel Better Chicken Noodle Soup

Ingredients
1 T. oil or vegetable oil
2 cloves garlic, finely chopped
8 medium green onions, sliced (about 1/2 cup)
2 medium carrots, chopped (1 cup)
2 cups cooked and cubed chicken
2 cups uncooked egg noodles (4 oz)
1 t. chopped fresh parsley or parsley flakes
1/4 t. teaspoon pepper
1 dried bay leaf
5 1/4 cups chicken broth

Directions
Mix all ingredients into a large stock pot. Blend flavors on medium heat until for 30 min. or until soup is heated through.

Third-place winner; Steven Setser

Burrito Pie

Ingredients
4, 8-inch tortillas
1 lb. ground beef or turkey
2 medium onions, diced
2 small garlic cloves, minced
1, 8 oz. can of drain chopped chilies
1, 16 oz. can refried beans
2/3 cup hot taco sauce
1/2 t. salt
1 lb. monterey jack cheese, shredded (about four cups)
1-2 cups shredded lettuce
1-2 medium tomatoes, diced

Directions
Preheat oven to 350-degrees. In skillet, cook ground beef, onion and garlic until meat is browned. Remove skillet from heat and stir in green chilies, beans, taco sauce and salt. Place one tortilla in a 9-inch pie plate, then top with 1/4 of bean mixture and 1/4 of cheese. Repeat three times. Bake for 30 minutes. Sprinkle pie with shredded lettuce and tomatoes.

Fourth-place winner; Marc Kaiser

Big Party Chili

Ingredients
Olive oil
4 medium onions, chopped
2 medium green peppers, chopped
8 lbs. ground beef
1, 6 oz. can tomato paste
2 large cans (1 lb. 13 oz.) cans stewed tomatoes
2 lbs. cans tomato sauce
1, 7 oz. can chili salsa
6 cloves garlic, minced
2, 3 oz. jars chili powder
2 T. salt
1 T. oregano
1 T ground black pepper
2 t. garlic powder

Directions
Brown meat in large skillet (you may need to do two batches for browning) and drain. Heat oil in a large pot over medium heat. Saute onions, green peppers, and garlic until softened, about 10 minutes. Add meat, tomato paste, stewed tomatoes and tomato sauce. Stir in garlic powder, chili powder, salt, black pepper, oregano and chili salsa. Reduce heat to low and simmer for three hours, stirring every 15 min. or so. Season to taste with salt and pepper halfway through cooking time.
Newsroom
Office of Communications Powell Hall West, Suite 1120
Mailing Address
1500 N. Patterson St.
Valdosta, GA 31698
General VSU Information
Office of Communications