Lincoln Center Jazz Musician to Perform with VSU Ensemble
Lincoln Center Jazz Musician to Perform with VSU Ensemble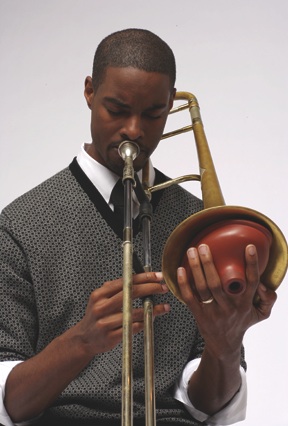 VALDOSTA -- The sound of Wycliffe Gordon's jazz trombone danced through the Thomson Middle School auditorium and captured the attention of then 14-year-old Chris Crenshaw, '05. Gordon, a highly decorated musician and composer, visited the east Georgia school in 1997 to perform and share his sound with young, aspiring musicians.

Thirteen years later, Crenshaw -- a Julliard trained musician -- visits Georgia schools to share his craft and encourage young musicians to pursue their dreams. Now a distinguished member of the Jazz at Lincoln Center Orchestra, Crenshaw will return to the Whitehead stage to perform a free concert for the public with the VSU Jazz Ensemble on Friday, December 3rd at 7:30 p.m.

"I just get a joy out of seeing students learn about music in general. It doesn't have to be jazz -- it could be any type of music. Going to different schools and sharing my knowledge the way God shared it with me, it's great," said Crenshaw, who became the first student to earn a master's in jazz trombone from the prestigious performing arts conservatory in New York. "I had a big chip on my shoulder because the odds were against me. I wasn't making any money. People would tell me I was wasting my time. I had to persevere through all the talk and believe that what I was doing would pay off."

The concert will be held in conjunction with the state jazz clinic and the Georgia All-State Jazz Ensemble auditions -- a yearly event sponsored by the Georgia Association of Jazz Educators (GAJE) and the Georgia Association of Music Educators (GMEA). More than 110 students from 39 area high schools will attend and be placed in five honor jazz ensembles that will perform a free concert at 4 p.m. on Saturday, Dec. 4, in Whitehead Auditorium.

Like Gordon, a fellow Georgia native, Crenshaw has never forgotten where his passionate story began. Although he spends most of the concert season in the Big Apple, Crenshaw lives in Thomson, Ga., with his wife, Melody, and daughter, Jazzlyn.

The Cadence of Greatness

Dr. Doug Farwell, VSU professor of trombone, said he remembers Crenshaw from when the eager teenager came to campus determined to deepen his understanding of jazz and find his sound.

"From the second Chris arrived on campus, he was totally committed to doing everything he could to enhance his education and grow as a person and musician," Farwell said of Crenshaw, who earned a bachelor's degree in jazz performance. "Chris set a standard of excellence that I now use as the model for other students in his chosen career path. Students like Chris enable us to raise our bar and expectations for all students."

Crenshaw scaled the ranks of the music department playing in concerts and jazz bands along the way. Just prior to graduation, the Department of Music named Crenshaw its Most Outstanding Musician, and the College of Arts named him Most Outstanding Student -- awards given to students who embody the work ethic and talent professors respect and appreciate.

"My auditions at Juilliard, Manhattan, and Rutgers were so easy because of VSU," Crenshaw said. "I always say that VSU is a good school for me because it allowed me to hone my skills so I would be ready for the next level. I had to work hard at VSU, and the hard work carried on to Juilliard, the Jazz at Lincoln Center, and other endeavors."

Crenshaw has been featured on a number of jazz albums, including "Portrait in Seven Shades," a Jazz at Lincoln Center original tribute to several famous artists from the 20th century. He has also worked on a project with Marcus Printup, another Georgia native, called "Ballads - All Night." Crenshaw continues to increase his standing in the Jazz community and has worked with some of genre's finest musicians including Gerald Wilson, Wynton Marsalis and Vincent Gardner.
Newsroom
Office of Communications Powell Hall West, Suite 1120
Mailing Address
1500 N. Patterson St.
Valdosta, GA 31698
General VSU Information
Office of Communications