Wickersham Receives Recognition for Work with HB 1040
Wickersham Receives Recognition for Work with HB 1040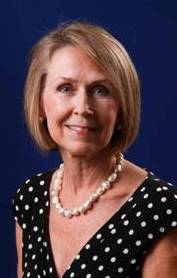 VALDOSTA -- "The Arc of Georgia named Dr. Mary Eleanor Wickersham, Valdosta State University's assistant professor of political science, as "Advocate of the Year." Wickersham, formerly Gov. Perdue's health and human services policy adviser, was instrumental in passing Georgia HB1040.

The Arc of Georgia -- a non-profit group that advocates for the rights of individuals with intellectual and developmental disabilities -- selected Wickersham based on her years of experience in the area of public policy, and most recently her efforts towards HB 1040.

"HB 1040 would never have passed without Ms. Wickersham's tenacity and knowledge of public policy," said Arc of Georgia Executive Director Deidre O'Brien. "She attended every hearing for this bill and answered all the legislators' queries"

The passage of HB 1040 provides changes to the Nurse Practice Act, which allows individuals with disabilities or the individual's representative to select a proxy caregiver to perform routine health maintenance activities.

"Before this law was passed, skilled services -- even daily services like catheter care, ostomy care and fixed unit dose insulin injections -- could only be provided by a licensed nurse or a family member," Wickersham said. "These health maintenance activities included routine services that, but for the disability, a person would perform for himself or herself."

The selected proxy caregiver must receive training from a registered nurse and the overall patient care is still administered through a registered nurse and proper care plan development.

"This change offers an alternative that will make continued community residence possible for many individuals," Wickersham said. "This is a great first step toward helping make community residence a realistic option for people who need routine skilled care."

Wickersham said the process was a learning experience and she appreciated the cooperation she received from various health care organizations and other groups.

"We focused on the ultimate goal, to foster independence for people with disabilities, and that kept us on track," said Wickersham. "Even after out group came to the consensus; we had many legal challenges from physicians, lawyers, and legislators who were concerned about liability issues for individuals and providers."

After months of discussions with various groups, HB 1040 was approved by the House and Senate, and signed by Gov. Perdue on June 4.


Newsroom
Office of Communications Powell Hall West, Suite 1120
Mailing Address
1500 N. Patterson St.
Valdosta, GA 31698
General VSU Information
Office of Communications