Nurse Practitioner Week: Nov 7-13
Nurse Practitioner Week: Nov 7-13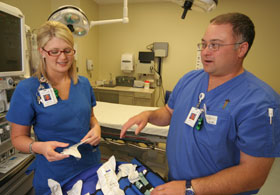 VALDOSTA -- It is National Nurse Practitioner Week, but these "angels in comfortable shoes" are far too busy to pat themselves on the back. Student Health Center nurses are canvassing the campus with roving flu shot mobiles. Nursing students are commuting to rural clinics to offer superior health care to underserved regions. VSU faculty and staff are guiding students through problem-based simulations and engaging in evidence-based research.

Area cities signed proclamations to acknowledge National Nurse Practitioner Week, Nov. 7-13, to celebrate the vital role these practitioners play in bringing comprehensive, cost-effective and patient-centered health care to all populations of the United States. Dr. Anita Hufft, dean of the College of Nursing, said VSU's focus on problem-based learning and clinical conferences in a variety of rural and urban settings prepares students to make critical decisions across the spectrum of diversity represented in clients from adolescence through geriatrics.

"We are especially proud of the accomplishments of our students and faculty in practice settings in South Georgia. The VSU College of Nursing provides significant support to the Partnership Health Clinic, the public health district, private physician offices, and our own Student Health Center on the VSU campus," Hufft said. "Our educational and service efforts are synthesized into opportunities for inter-professional collaboration and inter-agency cooperation. Graduates are employed as nurse practitioners throughout the United States, in the military and specifically in South Georgia."

During the past several years, VSU Nursing Instructor Myron Faircloth has rallied area cities to sign proclamations to recognize the dedicated men and women who serve the region. This year, Ray City, Tifton, Thomasville, Pearson, Adel, Moultrie and Perry formally recognized nurse practitioners. Last year, Valdosta, Hahira, Lake Park, Nashville and Quitman signed proclamations.

"It is vital to reflect on the significance of nurse practitioners in overcoming the shortage to primary care," said Faircloth, who graduated from the VSU College of Nursing in 1995. "I applaud the mayors and the region for recognizing the crucial role of NPs in providing comprehensive, patient-centered health care."

Valdosta State's Advanced Nurse Practitioner program, established in 2007, has prepared advanced practice nurses to provide primary care for individuals and families from 13 years of age. Dr. Maria Whyte, nurse practitioner program coordinator, said advanced nurse practitioners graduate with leadership skills and an understanding of evidence-based practice in health promotion, illness prevention and the management of acute and chronic illnesses.

"Our students are learning to develop patient education strategies, apply ethical and legal principles to complex health care situations and develop effective care plans," Whyte said. "Often delegated clients with the most complex social and economic limitations, adult nurse practitioners are well suited to optimize health in a less than optimal health care system."

The theme for the 2010 National Nurse Practitioner Week is "Everyday Heroes … Nurse Practitioners," which recognizes the more than 140,000 advance nurse practitioners that tend to patients in a variety of settings and disciplines. Go to the American Academy of Nurse Practitioners, http://www.aanp.org/AANPCMS2/AboutAANP/NationalNPWeek2010.htm , for more information about the week and the profession. Call the VSU College of Nursing at (229) 333-5959 to explore a career in nursing.
Newsroom
Office of Communications Powell Hall West, Suite 1120
Mailing Address
1500 N. Patterson St.
Valdosta, GA 31698
General VSU Information
Office of Communications