Listen to The Maharlika Trio Online
Listen to The Maharlika Trio Online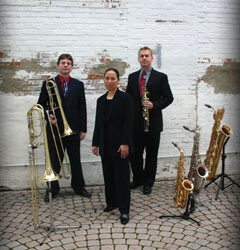 VALDOSTA -- To push themselves as composers and instrumentalists, music faculty Joren Cain, David Springfield and his wife, Malia Gutierrez Springfield, came together as The Maharlika Trio -- named for a Filipino word meaning "noble." The group, which performs an eclectic blend of chamber music throughout the Southeast, can be heard on The Atlanta Music Scene, broadcast by WABE 90.1 at 9 p.m. on Monday, Nov. 15.

The concert was recorded in 2008 at the prestigious Spivey Hall at Clayton State University in Atlanta. Listeners outside the Atlanta area may stream the broadcast online at by going to www.pba.org/programming/programs/ams and clicking "Listen Now." The program will be repeated on WABE's Classical Stream at 10 a.m. on Saturday, Nov. 20.

"Our backgrounds are versatile, and this comes through in performance," said Gutierrez Springfield, who has played with world-renowned cellist, yo-yo Ma. "In chamber music, the creative input and control is shared by each performer, and there is a high level of musical interaction. with this group, we all get along and respect each other's opinions and motivate each other as we learn the music together."

With Cain on saxaphone, David on trombone, and Malia on piano, the group motivates each other to tackle diverse sounds from established classics to original jazz compositions. Because of the distinctive combination of instruments, many of the pieces the trio performs are composed specifically for the group's characteristic sound. David has composed a number of songs along with Atlanta composer Chris Arrell and Chuck Israels, who has worked with Billie Holiday and John Coltrane.

Joren Cain is assistant professor of saxophone and director of the New Jazz ensemble at Valdosta State University. Cain, who is pursuing a Doctor of Musical Arts from the University of North Texas, served as a member of the United States Army Field Band, the Army's premier touring concert band, for four years. David Springfield, director of Jazz Studies at Valdosta State University, teaches jazz piano, improvisation, arranging, combos and jazz history. He is also a member of the Faculty Jazz Combo and directs the VSU Jazz ensemble. His music has been performed throughout the United States and Europe and is published by Kendor Music and UNC Jazz Press. Maila Gutierrez Springfield earned her Master of Music in Piano Accompanying and Chamber Music from the Eastman School of Music and a bachelor of Music in Piano Performance from Syracuse University. Gutierrez Springfield has been a staff accompanist at Valdosta State University since 2002.

For more information about the Maharlika Trio, go to the group's website at http://web.mac.com/maharlikatrio/MaharlikaTrio/Main.html .
Newsroom
Office of Communications Powell Hall West, Suite 1120
Mailing Address
1500 N. Patterson St.
Valdosta, GA 31698
General VSU Information
Office of Communications